This Keto Raisin Bread recipe is a real yeast bread with only 4g net carbs per slice. It's a low carb take on a classic comfort food.
"Pepperidge Farm remembers."
I've been thinking about those old Pepperidge Farm commercials as I made today's recipe for Keto Raisin Bread. Their's is the only raisin bread I've ever eaten. And I was actually able to find one of their old commercials on Youtube. (Video below)
But the Keto Raisin Bread we're going to make today is a little bit different.
It's a low carb yeast bread that's made from almond flour, coconut flour, flaxseed meal and vital wheat gluten.  And because it's a real yeast bread, it's going to take about 3 hours to make.  But it'll be worth it.
As you probably know, raisins are off limits on a low carb diet.
But luckily, unsweetened dried cranberries are not. So I used them in place of the raisins, after plumping them up in a mixture of water and sugar-free sweetener. I learned this trick from my blogger friend Aunt Rocky. And I based the bread dough on a wonderful low carb bread that I found on Lowcarb-ology.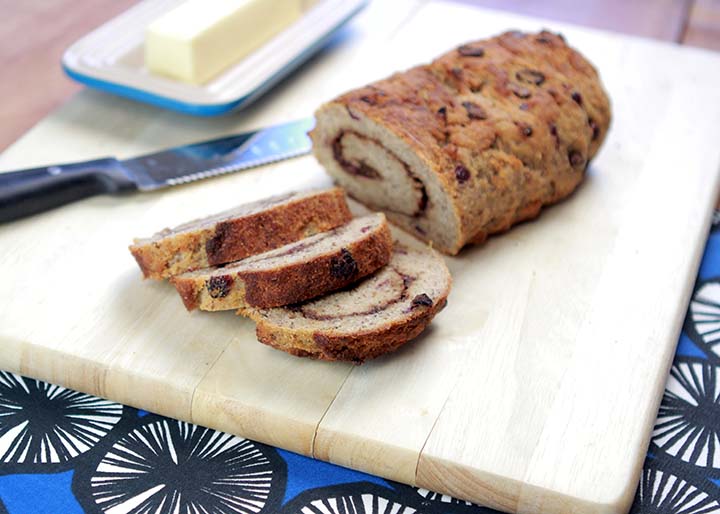 Now, you might have noticed the inclusion of the sugar in this recipe.
But fear not. The sugar is converted to alcohol and carbon dioxide in the fermentation process, and the carbohydrates are canceled out.  So the whole shebang clocks in at just 4g net carbs per slice. 
It's a wonderfully dense dessert bread that you'll want to make over and over again.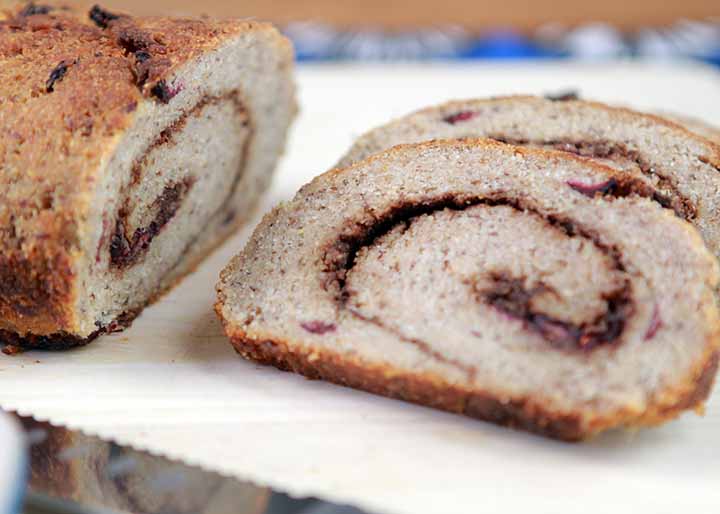 Print
📋 Recipe
Keto Raisin Bread
This Keto Raisin Bread recipe is a real yeast bread with only 4g net carbs per slice. It's a low carb take on a classic comfort food.
Author: Emily Krill
Prep Time:

120

Cook Time:

55

Total Time:

2 hours 55 minutes

Yield:

12

slices

1

x
Category:

Bread

Cuisine:

American

Diet:

Diabetic
Craisins:
Bread dough:
Filling:
⅓

cup

Swerve Brown

2 tablespoons

cinnamon

3 tablespoons

butter, melted
Instructions
Step 1. Add dried cranberries, water, and sweetener to a medium-sized microwave-safe bowl and microwave for 4 minutes.  Give it a stir and then set aside to plump.
Step 2.  In a large bowl, sprinkle yeast over warm water (like bath water), then sprinkle the sugar over the yeast. Cover, and wait ten minutes for the yeast to ferment and become frothy/bubbly over the water and sugar.
Step 3.  Blend vital wheat gluten, almond flour, coconut flour, and flaxseed meal in a medium bowl.
Step 4.  Use a stand mixer with a paddle attachment or a wooden spoon to stir 1 ½ cups of the flour mixture into the yeast mixture.
Step 5.  Stir for 1 minute.
Step 6.  Let stand for 10 minutes.
Step 7.  Mix the salt and baking powder into the flour mixture.
Step 8.  Stir the vinegar into the melted butter.
Step 9.  Stir the butter mixture into the dough until the liquid is absorbed.
Step 10.  Slowly mix in the remaining flour mixture. It will be very dry.
Step 11.  Add the cranberries and remaining liquid to the dough and use your hands to blend them into the dough.
Step 12.  Cover the dough and let it rest for 10 minutes.
Step 13.  Either use a stand mixer with a dough hook attachment or turn the dough out onto a lightly almond floured surface and knead by hand for 10 minutes.  If the dough is too dry to hold together, then you can add a little more water until it is kneadable.
Step 14.  Grease a large bowl with butter.  Form the dough into a ball and add it to the greased bowl. Flip it so that it is buttered on both sides.  Cover the bowl with plastic wrap.
Step 15.  Move the oven racks to the middle and bottom positions.  Put a casserole pan on the lower rack.  Fill the pan with boiling water and add the bread dough to the middle rack of the oven.  Quickly close the oven door.  As long as you open and close the oven quickly, you can use this warm oven for both bread rises.
Step 16.  Allow to rise until it is about ¼ larger (1-2 hours).  This bread is not going to rise a whole lot.  That's ok.
Step 17. Roll the dough out into a rectangle that is 8 inches by 12 inches.
Step 18.  Mix together the filling of melted butter, brown sugar substitute, and cinnamon.  Spread the mixture over the entire surface of the dough from edge to edge.  Tightly roll the dough so that is 8 inches long by 4 inches wide.  Place the dough into a greased 8 ½ by 4 ½ inch loaf pan, with the seam on the bottom.
Step 19.  Let rise for 40 minutes in the warm oven.  It will only rise a small amount.
Step 20.  Preheat oven to 350 degrees F.  Brush the top of the loaf with melted butter.
Step 21.  Bake for 50-55 minutes until nicely browned. Use an instant-read thermometer to check that the insides are between 190-200 degrees F.  If it's not up to temp, then continue baking until it is.
Step 22.  Cool the bread in the pan for 10 minutes.
Step 23.  Slide the loaf out onto a wire drying rack and cool completely before cutting.
Notes
* The sugar is converted to alcohol and carbon dioxide in the fermentation process, so the carbohydrates are cancelled out.
Nutrition
Serving Size:

1 slice

Calories:

200

Fat:

12

Carbohydrates:

9

Fiber:

5

Protein:

11
Keywords: Low Carb Cinnamon Raisin Bread, Sugar-Free Cinnamon Raisin Bread