This recipe for low carb and Keto Beef Bourguignon is fun to make and wonderful to eat. And each serving has just 4g net carbs.
Bonjour!
Today I'm going to share a recipe for low carb Beef Bourguignon, a dish that I have to constantly look up the spelling of.  (So. Many. Vowels.)  To find a good recipe, I went straight to the source, Julia Child's The Art of French Cooking.  She's got a wonderful recipe for this classic French stew.  It was actually the very first recipe she made on her very first television show.  
There were two problems with the recipe though; It wasn't low carb and it took 4-5 hours to make.  Not ideal.  But I was able to find a really good low carb Instant Pot recipe for Beef Bourguignon on the Simply So Healthy blog.  And they actually based their recipe on Julia's too.  Small world.  

I've pulled together the best Beef Bourguignon tips and information that I learned from watching Julia's show.
Here goes:
"Bourguignon means Burgandy, where the dish is from.  Burgandy is good, but any kind of good red wine will do."
"Before you sauté anything, you want to make sure that you have it good and dry…If you don't dry the meat, you can't brown it because it's as though it were steaming.  There's water on the bottom of the meat and it just steams rather than browns."
"You have to be a little bit patient, if you want to have success."
"I always find a towel awfully useful to have hung around me."
"Unless you are on one of those 'fat-free diets' you are going to want to leave a little bit in for flavor."
"You don't want to put pepper in until the end of the sauce, because pepper can be a little bit bitter."
"The sauce needs to be thick enough to 'enrobe' the beef."
"When it's cool, you can cover it and refrigerate it.  Be sure never to cover anything while it's still hot, because it may sour."
"It's fun to make and wonderful to eat."
So there you have it, straight from the grandmother of French cookery.
Now, the Beef Bourguignon recipe below is a little bit different than her classic version.  It's low carb and Keto, so I skipped the carrots and added more mushrooms instead.  And instead of thickening the sauce with white flour, I used the Simply So Healthy method of using Xanthan Gum dissolved in oil.  And it worked out beautifully.  Now I've got a go-to recipe for Beef Bourguignon with only 4g net carbs per serving. Très bon.  Ok, I'm going to leave you with one last bit of advice from Julia Child:
"Always remember: If you're alone in the kitchen and you drop the lamb, you can always just pick it up. Who's going to know?"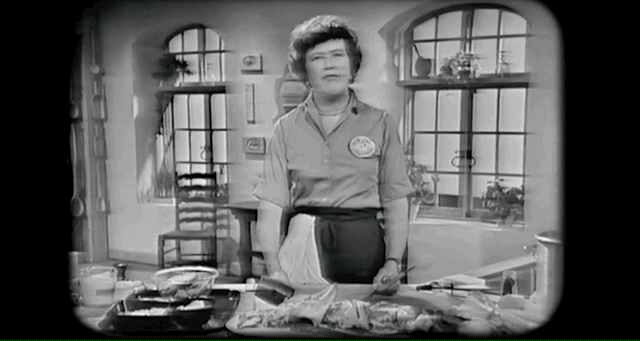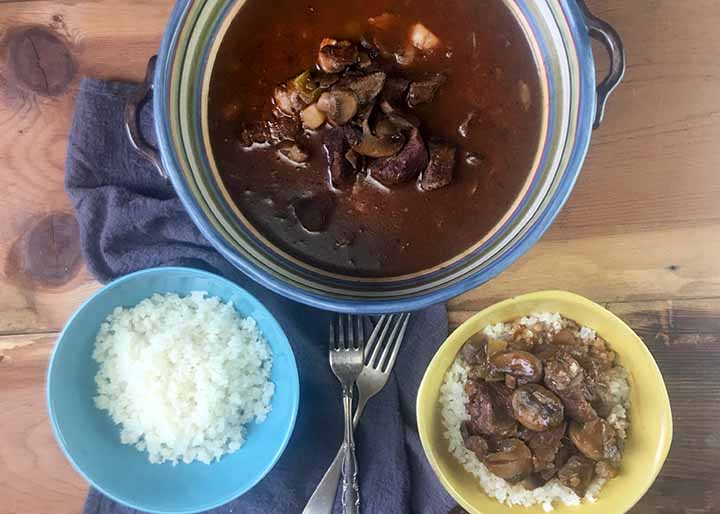 Print
Low Carb Keto Beef Bourguignon Stew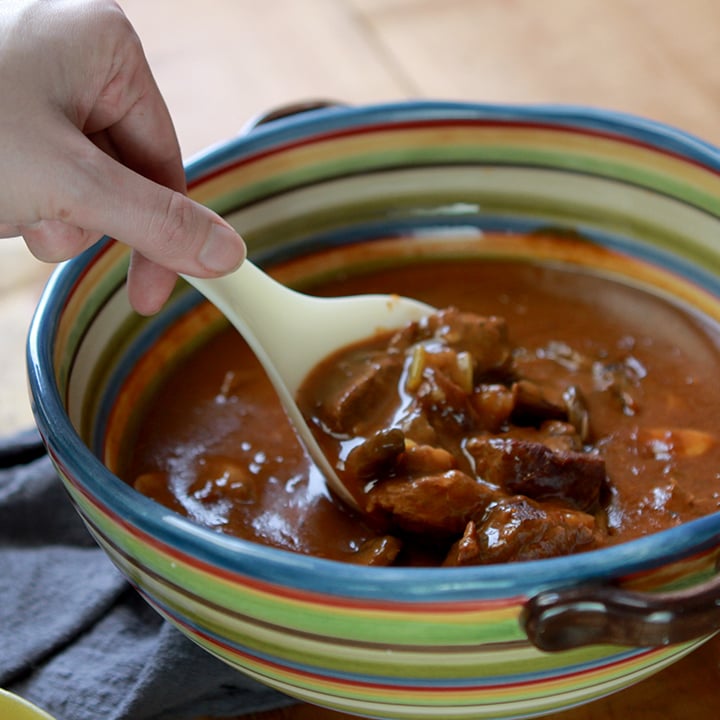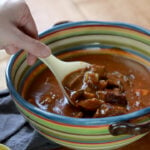 This recipe for low carb Keto Beef Bourguignon is fun to make and wonderful to eat.  And each serving has just 4g net carbs.
Author: Resolution Eats
Prep Time:

15

Cook Time:

60

Total Time:

1 hour 15 minutes

Yield:

8

servings

1

x
Category:

Entree

Cuisine:

French
4 slices bacon, cut into 1/2 inch lardons
2 pounds beef stew meat, washed and dried well
1 tablespoon plus 1 teaspoon light olive oil
1/2 cup onions, diced
12 oz mushrooms, quartered, washed and dried well
1 clove garlic, minced
1 teaspoon Xanthan Gum
1 1/2 cup Burgandy or similar red wine
2 cups beef broth
2 tablespoons tomato paste
1 teaspoon dried thyme
1 bay leaf
salt and pepper to taste
Instructions
Preheat Instant Pot* on Sauté setting until the display reads HOT.
Add the lardons to the pot and cook until crisp, 5 minutes.
Remove the bacon and put it on paper towels to drain.  Remove all but 1 tablespoon of the bacon grease in the pot.  Reserve the rest of the bacon grease.
Add the beef to the pot in three batches, making sure not to crowd the pan.  Using a spatula and tongs, brown the beef on all sides, 4-5 minutes.  If the pan gets too dry, add more bacon grease.  Remove beef to a large bowl.
Heat one tablespoon olive oil in the pot.  Add onions and cook until softened, 2 minutes.
Add mushrooms and cook until softened, 5 minutes.
Add garlic and cook for 1 minute more.
Remove vegetables from the pot and add to the bowl of beef.
Heat one teaspoon olive oil in the pan and add in Xanthan Gum.  Stir to dissolve.
Add wine to the pan and use a spatula to scrape up the browned bits.  Cook until wine thickens, 1 minute.
Add beef broth, tomato paste, thyme and bay leaf to the pan and stir until thickened, 1-3 minutes more.
Add beef, vegetables and bacon back into the pot .
Put the lid on the Instant Pot and pressure cook on the Meat/Stew setting for 30 minutes.  Use quick release valve to release the steam.
Open the lid and remove the bay leaf.  Taste for saltiness and add salt and pepper as desired.
Notes
*If you don't have an Instant Pot, you can make this recipe on the stove and in the oven.  Do all the initial steps in a large frying pan on the stove and then add all the ingredients to a covered pot and bake 325 degrees F for 3-4 hours until meat is very tender.
Nutrition
Calories:

532

Fat:

32

Carbohydrates:

5

Fiber:

1

Protein:

35
Keywords: Low Carb Beef Stew, Keto Beef Stew, Low Carb Beef Bourguignon, Keto Beef Bourguignon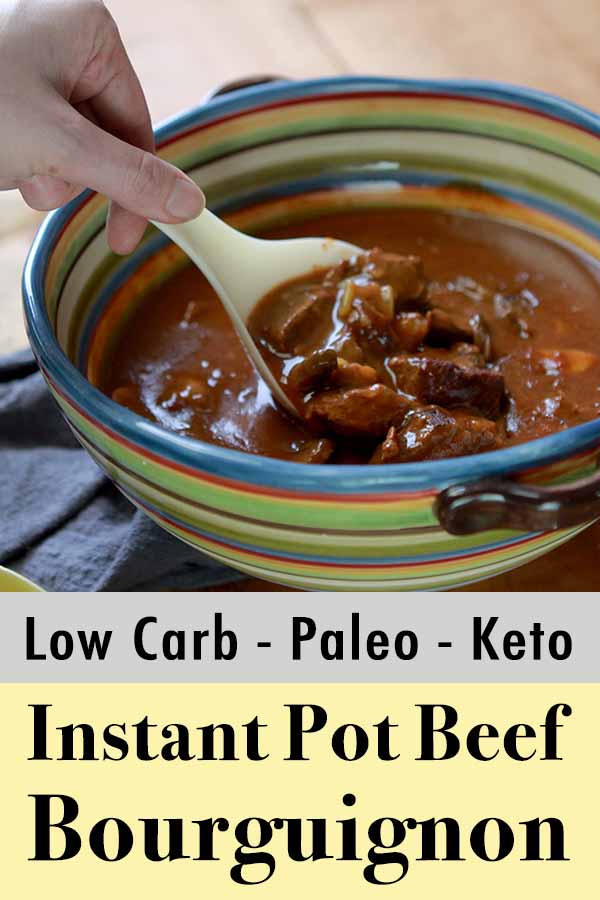 Processing…
Success! You're on the list.
Whoops! There was an error and we couldn't process your subscription. Please reload the page and try again.
26