This low carb and Keto coffee cake has a tart sweet rhubarb layer and a streusel crumb topping. It's a wonderful summertime dessert with just 5g net carbs.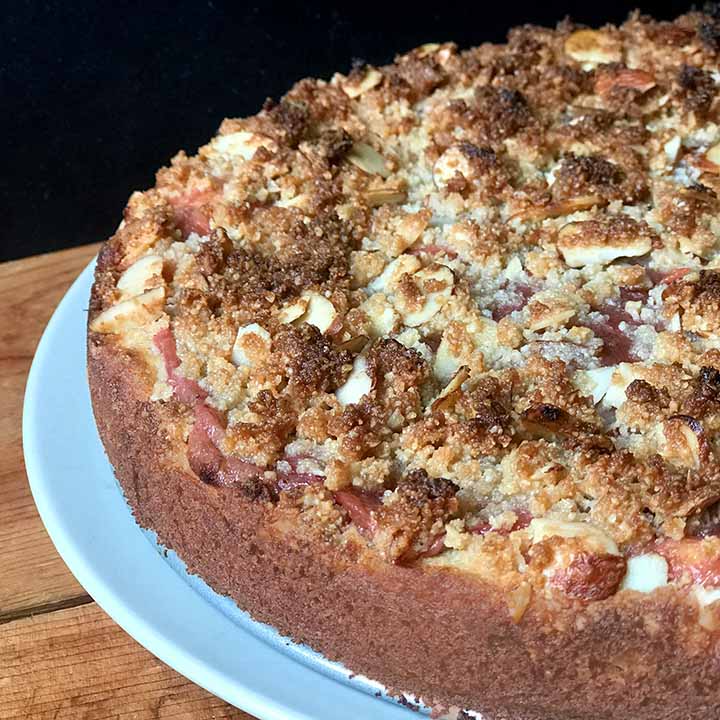 Greetings fellow rhubarb lovers!
I've been taste-testing rhubarb sauce all morning, and boy is my mouth tired! Rhubarb is ridiculously sour on its own, so I've been adding a little more sweetener, testing it, puckering up my mouth because it is so sour, and then starting the process again. The reason for all this experimentation is that, like lemon recipes, it's very easy to make rhubarb either too sweet or too sour.
Nevertheless I persisted, as they say.
But let me back up for a minute. If you have searched for and found this recipe, then you are likely familiar with the wonders of rhubarb. But for the rhubarb newbies out there: rhubarb is a cultivated perennial plant with red and green stalks and large (poisonous!) leaves.
Rhubarb is usually sugared up and used in desserts as though it is a fruit, but it's technically a low carb vegetable. But to confuse things even more, a 1947 court opinion deemed the plant a fruit since it's often used that way. So you really have your pick in terms of what you call a nice hot pink stalk of rhubarb. I prefer to think of it as "sour celery".
So let's talk about the Keto Rhubarb Coffee Cake that we can make with this wonderfully tart plant.
Over the years, I've shared low carb recipes for Strawberry Rhubarb Cobbler, and my personal favorite, Rhubarb Cobbler Ice Cream. And today's recipe for Keto Rhubarb Coffee Cake fits right in. It's a simple vanilla coffee cake, topped by a tart and sweet rhubarb sauce and then sprinkled with a streusel crumb topping. It is a truly fabulous dessert.
Just promise me that you won't go rhubarb crazy and make yourself a suit out of rhubarb leaves.
Have a little dignity.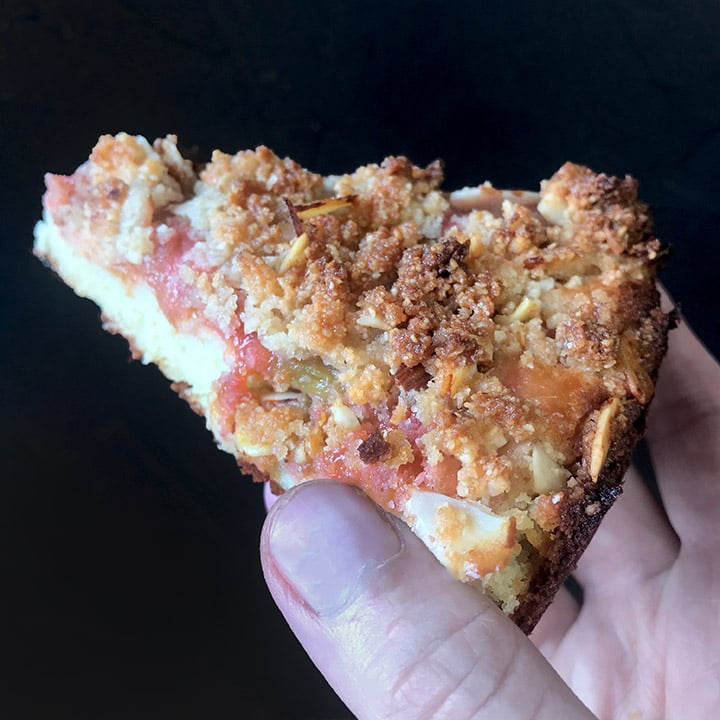 Print
📋 Recipe
Keto Rhubarb Coffee Cake
This low carb and Keto coffee cake has a tart sweet rhubarb layer and a streusel crumb topping.  It's a wonderful summertime dessert with just 5g net carbs.  Make it soon though- rhubarb is gone from stores before you know it!
Author: Emily Krill
Prep Time:

10

Cook Time:

40

Total Time:

50 minutes

Yield:

10

slices

1

x
Category:

Dessert

Method:

Baked

Cuisine:

American

Diet:

Gluten Free
Coffee Cake:
6 tablespoons

unsalted butter, softened

¼

cup

Swerve or equivalent granulated sweetener*

2

large eggs

1 teaspoon

vanilla extract

¼ teaspoon

salt

⅓

cup

coconut flour

2 teaspoons

baking powder

¼ teaspoon

xanthan gum

¼

cup

heavy whipping cream

¼

cup

water
Rhubarb Filling:
4

cups

rhubarb, cut into ½

pieces

½

cup

Swerve or equivalent granulated sweetener*

½

cup

water

¼ teaspoon

xanthan gum

3

-

4

drops red food coloring, if desired
Streusel Topping:
Instructions
Step 1.  Pre-heat oven to 375 degrees F and liberally grease a 9-inch springform pan.  
Step 2.  Begin with the coffee cake ingredients.  In a large bowl, with an electric mixer, cream together 6 tablespoons butter and ¼ cup sweetener until light and fluffy.
Step 3.  Beat in eggs, one at a time, and then add vanilla.
Step 4.  In a medium-sized bowl, mix together salt, almond flour, coconut flour, baking powder, and xanthan gum.  Beat the dry ingredients into the wet.  Then beat in water and cream.  
Step 5.  The batter will be very thick.  Pour batter into the springform pan and smooth the top with a spatula.
Step 6.  Bake for 18-24 minutes until top is browned and a toothpick in the middle comes out clean.
Step 7.  As soon as the cake goes in the oven, you can make the rhubarb sauce.  Add rhubarb, water and sweetener to a medium-sized saucepan and bring to a boil over Medium-High heat. 
Step 8.  Simmer until rhubarb is soft and partially broken down and the liquid has reduced 4 minutes.  Taste the rhubarb filing for sweetness and add more sweetener if desired.   Sprinkle xanthan gum over the rhubarb and quickly stir it in.  Simmer for 2 minutes more until thickened.  If it's not a pretty pink color, you can add a few drops of red food coloring, if you like.  
Step 9.  For the streusel topping, in a medium-sized bowl, mix together ¼ cup sweetener, ¾ cup almond flour, and ⅓ cup sliced almonds.  Stir in melted butter until crumbs form.
Step 10.  Spoon the rhubarb over the cooked coffee cake and smooth it from edge to edge.  Crumble streusel on top.
Step 11.  Turn the heat up to broil, but leave the rack in the middle.  Broil for 1-2 minutes until crumble topping is browned.  Keep a very close eye on it because it will brown quickly.
Step 12.  Cool completely in the pan.  Carefully remove the outer wall of the springform pan and cut into 10 slices.  
Notes
*This recipe uses a whole cup of Swerve, so make sure that you have enough before starting the first step.  Each 12oz bag contains 1 ½ cups.  
**If you take this cake to a party, make sure to clearly mark that it contains nuts.  Most people don't expect a cake to use almond flour, so people with nut allergies might inadvertently eat it. 
Nutrition
Serving Size:

1 slice

Calories:

300

Fat:

27

Carbohydrates:

10

Fiber:

5

Protein:

10
Keywords: Low Carb Rhubarb Coffee Cake, Keto Rhubarb Coffee Cake, Low Carb Rhubarb Crumb Cake, Keto Rhubarb Crumb Cake
If you liked this low carb coffee cake, then you might like my recipes for Keto Lemon Pound Cake, Strawberry Jello Layer Cake or Toasted Almond Torte.