This Keto Vegetable Beef Soup recipe has just 7g net carbs per bowl. It's a low carb soup that will stick to your bones.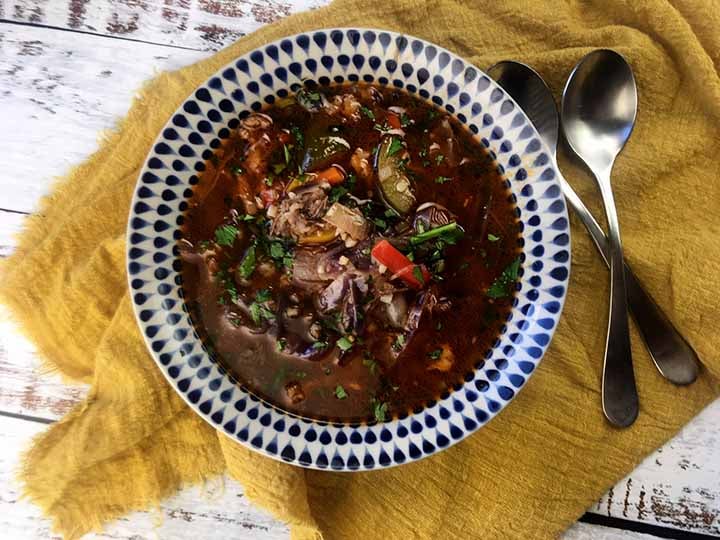 Jump to:
Greetings Veggie Lovers. 👋
Today I'm going to show you how to make a very comforting Keto Vegetable Beef Soup recipe. But I can't make vegetable soup without thinking about this great flash mob video I saw once. (This was back when flash mobs were still a thing.)
It was the best kind of troublemaking. 😉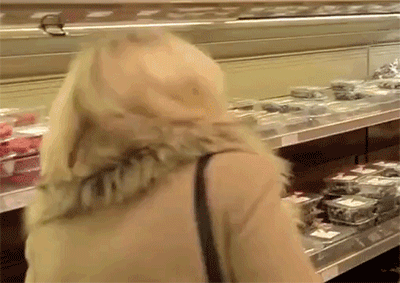 Picture it, it's a normal day in the produce section of your local supermarket.
When right next to you, some guy starts singing opera to himself. Pretty loudly. Which is weird, but people are weird. But then other people in the supermarket start joining in until suddenly, you find yourself in the middle of a performance of the opera, Funiculì, Funiculà.
It is simply delightful.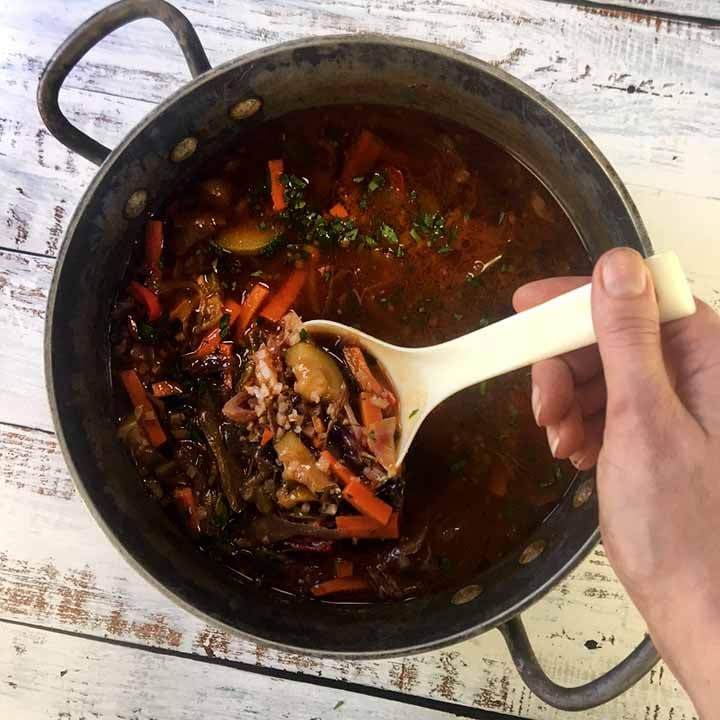 But let's talk soup. 🥘
This Keto Vegetable Beef Soup is a lovely blend of beef and tomato broth with onions, red bell peppers, carrots, zucchini, and red cabbage. And of course, the beef. For this recipe, I went with some nice fatty short ribs. I used my Instant Pot to pressure cook them, so I didn't need to spend the afternoon waiting for the meat to fall off the bone. In just 45 minutes, I had a hearty bowl of low carb beef vegetable soup with just 7g net carbs per serving.
It was enough to have me singing in the aisles.
Low Carb Vegetables 🥗
This recipe uses onions, red bell peppers, carrots, zucchini, and red cabbage, but this is not set in stone. You could use some mixture of Daikon radishes, kale, green cabbage, summer squash, eggplant, soybeans, spinach, asparagus, bok choy, broccoli, Brussel sprouts, cauliflower, celery, celery root, collard greens, parsley, endive, butternut squash, escarole, kohlrabi, mushrooms, mustard greens, okra, pumpkin, radicchio, scallions, spaghetti squash, green beans, tomatoes, turnips, and hot peppers.
If you like this beef vegetable soup, then you might like my Rump Roast Instant Pot recipe, my Keto Beef Stroganoff, or my Guide to Basic Keto Instant Pot Recipes.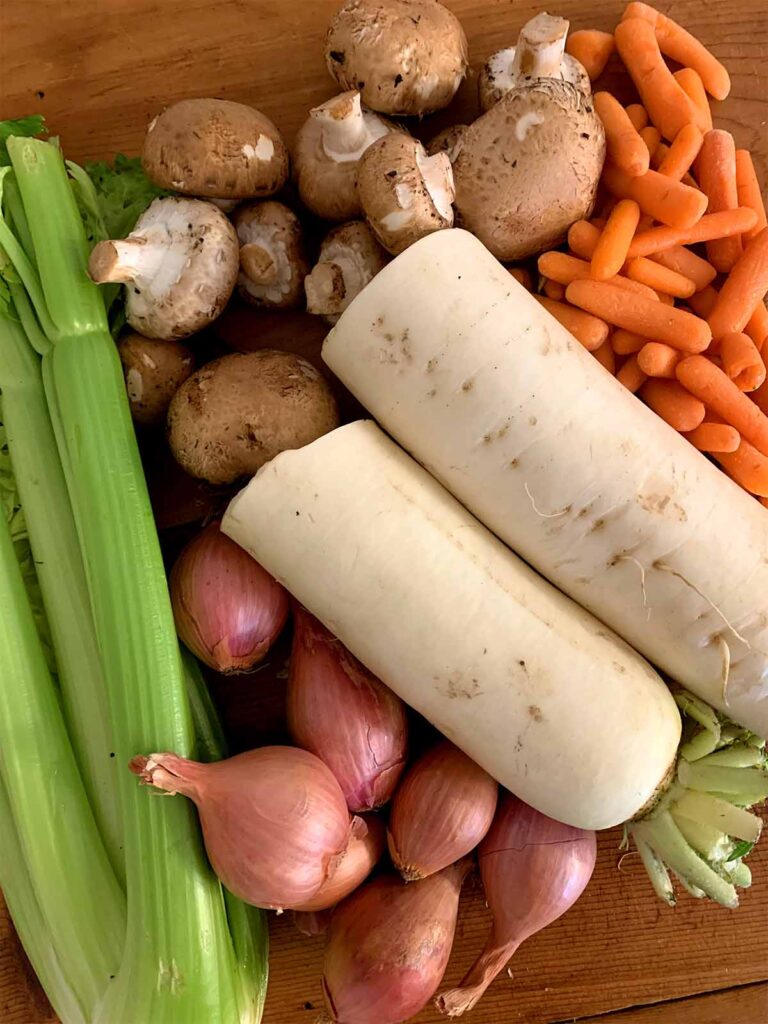 Did you say carrots? 🥕
This Keto recipe does use carrots because no self-respecting vegetable soup would be without them. But they actually rank very low on the glycemic index and only have 4g net carbs per carrot. Once you divide that amount between 6 bowls, it really isn't high in carbohydrates at all.
So just chill about the carrots, Karen.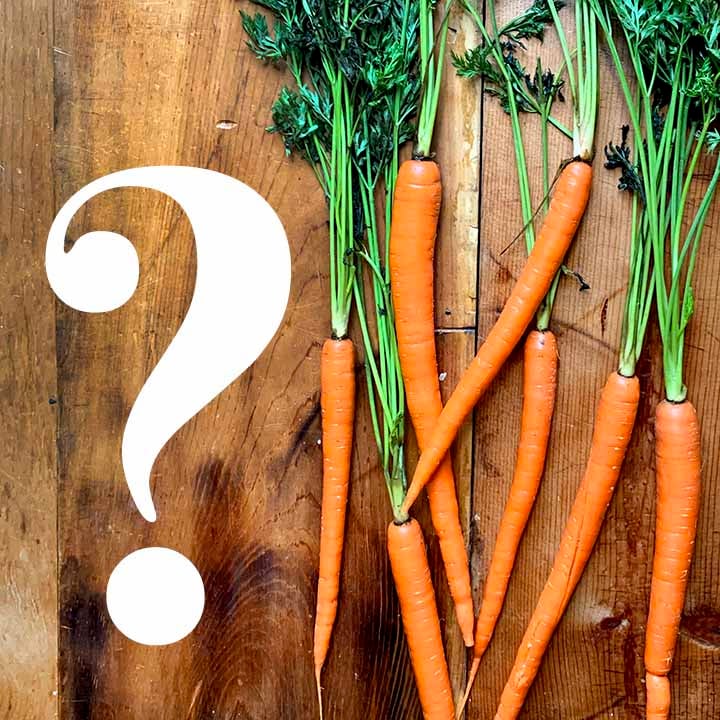 Best Beef Cuts for Soup 🥩
There are certain cuts that are great for braising. Chunk steak, round steak, or blade steak work well. You can also just pick up a package of pre-cut stew meat. You'll need to trim some of the fat, but it still saves time. But for this Keto Vegetable Beef Soup recipe, I decided to go with short ribs because they are nice and fatty and fall of the bone after you've braised them.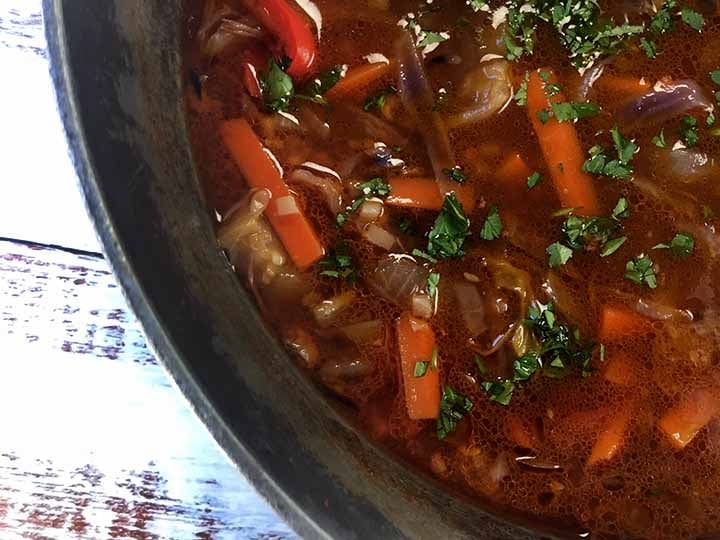 Why not... both? To make this low carb beef soup, you'll need to pressure cook the beef in an Instant Pot and cook the vegetables and broth in a soup pot on the stovetop. And you'll be searing the meat in a frying pan on the stove first, to seal in the juiciness.
When you use an Instant Pot to braise the beef, it only takes 35 minutes, compared to slowly cooking it in the oven for several hours. Cooking the soup on the stovetop and in the Instant Pot might sound like a lot, but the whole recipe only takes 45 minutes, so it's not really so long.
The beef will be tender and the vegetables won't turn into mush in the Instant Pot.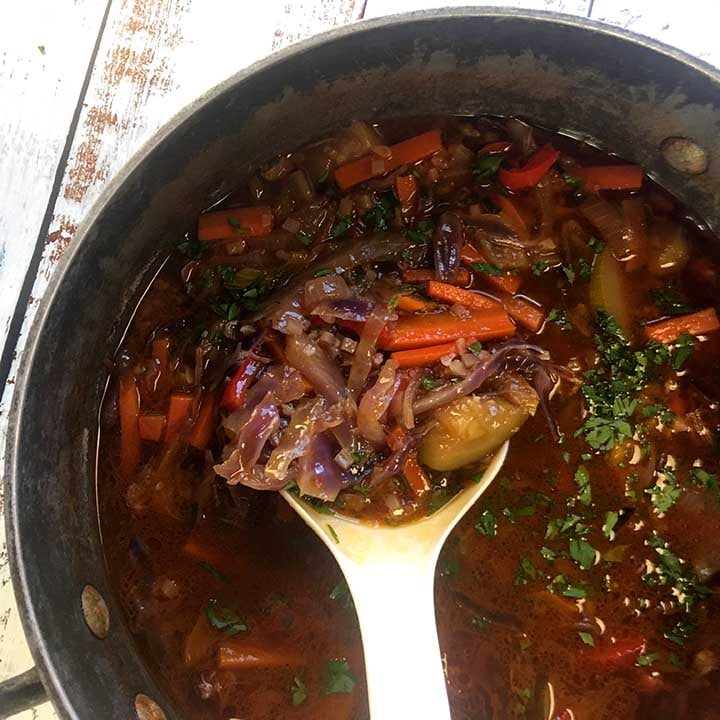 Low Carb Sides 🍞
There are some very tasty low carb options for crackers and bread out there. Highkey makes a good almond flour cracker, or you can make your own with a recipe from Wholesome Yum. And I've got a boatload of bread recipes on my own humble website.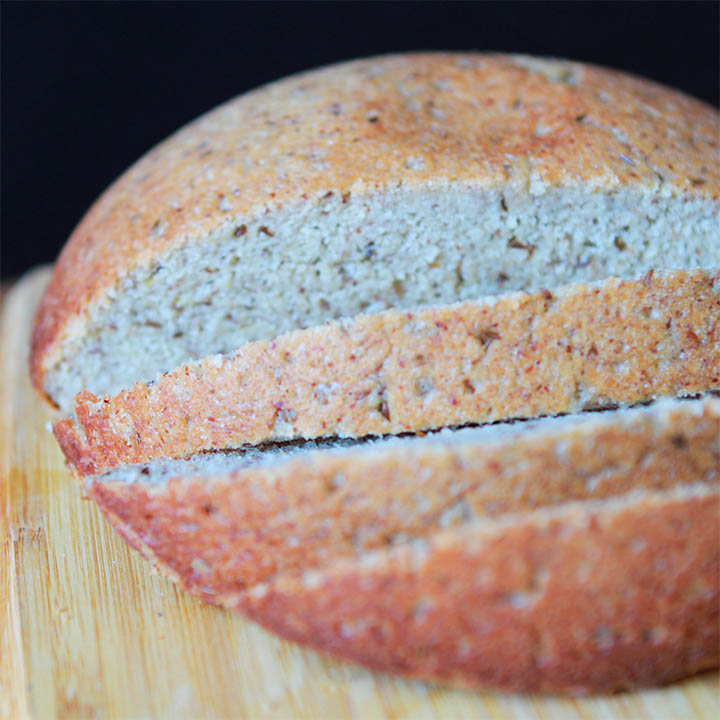 Any of these options would make this soup into a meal.
So grab some vegetables from your local grocery store and let's make some soup!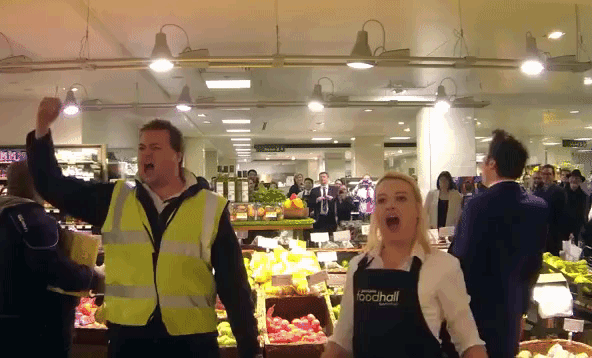 Print
📋 Recipe
Keto Vegetable Beef Soup
This is a low carb beef and vegetable soup with just 7g net carbs per serving.
Author: Emily Krill
Prep Time:

10

Cook Time:

35

Total Time:

45 minutes

Yield:

6 cups

1

x
Category:

Entree

Cuisine:

American
2 tablespoons

extra virgin olive oil, divided

1 ½

pounds bone-in beef short ribs

6 cups

beef broth, divided

½ cup

onion, diced

1 cup

carrots, diced

1 cup

red bell peppers, diced

1 cup

zucchini, diced

2 cups

red cabbage, sliced thinly

2 tablespoons

tomato paste

1 teaspoon

salt

½ teaspoon

black pepper

2

bay leaves

2 tablespoons

chopped parsley, to garnish
Instructions
Step 1.  Heat 1 tablespoon olive oil over Medium-High heat in a large Dutch Oven or Soup Pot.  Add short ribs to the pot and brown on all sides.
Step 2.  Add the short ribs to an Instant Pot along with 2 cups beef broth.  Use the Pressure Cooker setting and cook for 35 minutes.*
Step 3.  As the short ribs are cooking, you can chop the vegetables and make the soup.
Step  4.  Add 1 tablespoon olive oil to the Dutch Oven or Soup Pot and heat over Medium heat.  Add onions, carrots and red bell peppers and cook for 3-4 minutes until softened.  Add zucchini and red cabbage to the pot and cook for 3 minutes more.
Step  5.  Add remaining 4 cups beef broth to the pot, along with the tomato paste, bay leaves, salt and pepper.  Bring to a boil.
Step  6.  Simmer for 10 minutes.  Remove bay leaves.
Step  7.  By the time the soup is done, the meat should be ready. Release the steam and remove the short ribs to a cutting board.  Use two forks to remove the bones and shred the meat.  Add the shredded beef along with the broth that the beef cooked in, to the pot.
Step  8.  Pour the soup into bowls and sprinkle parsley on top.
Notes
*If you don't have an Instant Pot, you can add the short ribs and 2 cups broth to a casserole dish and cook in a 325 degree F oven until very tender, 3 hours.
Nutrition
Serving Size:

1 cup

Calories:

626

Fat:

49

Carbohydrates:

10

Fiber:

3

Protein:

28
Keywords: Low Carb Beef Vegetable Soup, Keto Beef Vegetable Soup, Paleo Beef Vegetable Soup
If you liked this low carb soup recipe, then you might like my recipes for Keto Gumbo, Chili Con Carne or Chicken Ramen Noodle Soup.