This Keto Beef Stroganoff recipe is a hearty mixture of steak, egg noodles and mushrooms, enveloped in a dreamy sour cream sauce. It's a great low carb meal with only 6g net carbs.
Jump to:
Dasvidaniya!
Today I'm going to share a recipe for Keto Beef Stroganoff, the most comforting of comfort foods. But first, I want to tip my hat at the originator of this recipe, Pavel Stroganov, the handsome devil you see below.
(Is it me, or does he look just like Steve "the Hair" Harrington from Stranger Things?)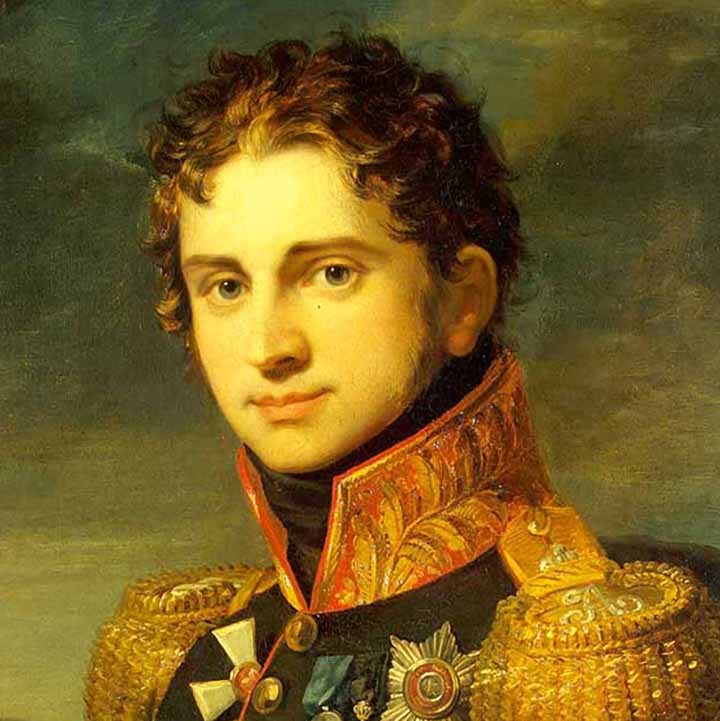 His origin story:
The Stroganovs were one of the richest families in Tsarist Russia, in the early 1800's, when this recipe was created. It is thought to have come from a French chef working for the family. So the chef named it after his boss, Pavel Stroganov, but used the French spelling "Stroganoff", which is what we use to this day. Stroganov, Stroganoff, same difference.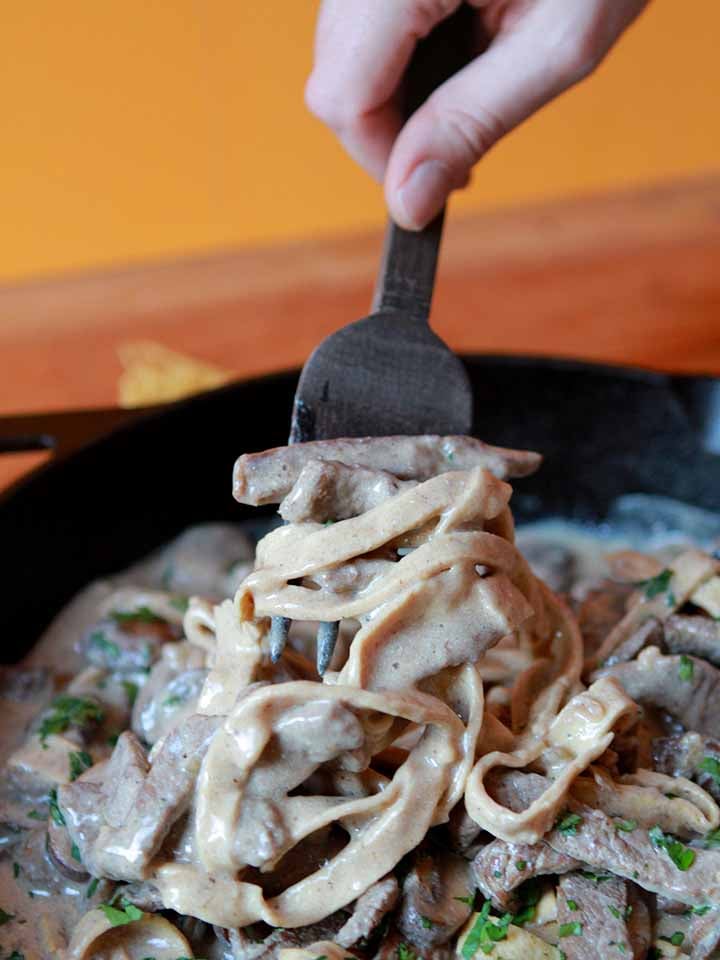 The recipe has traveled far and wide in the last 200 years.
You can find some version of Beef Stroganoff just about everywhere, and everybody makes it a little bit differently. But for the low carb Beef Stroganoff recipe that we are going to make today, I decided to keep it to the most common American ingredients: beef sirloin, mushrooms, onions, garlic, sour cream and egg noodles.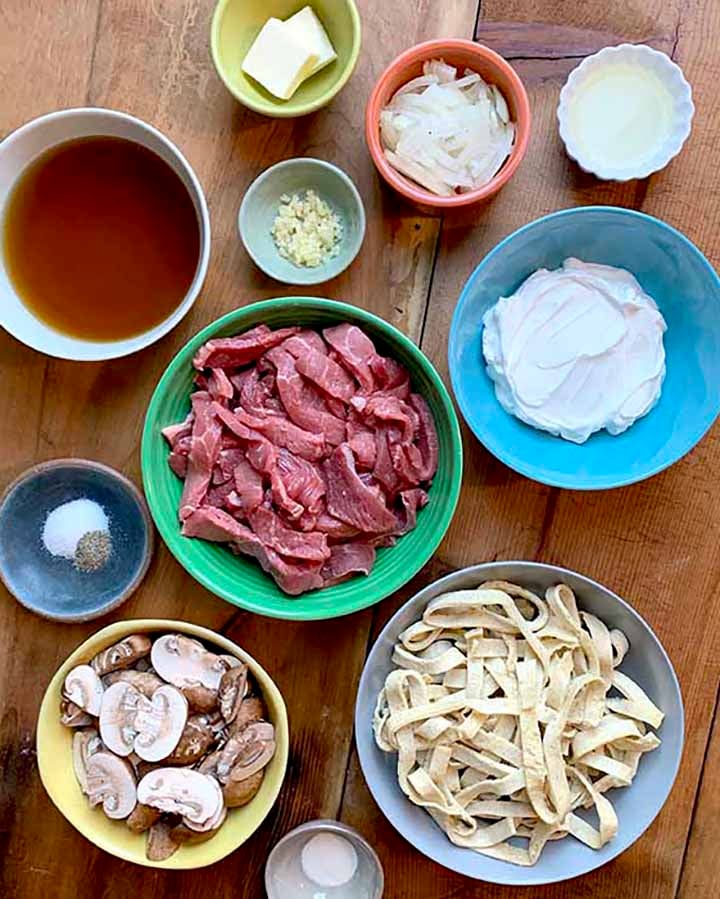 Egg noodles?
Well, yes, but not the kind you might be thinking of. These are homemade Keto noodles that are literally made from eggs, cream cheese and a high protein low carb flour. I used Psyllium Husk Powder Noodles for this recipe, but you can also make the egg noodles with Lupin Flour, Vital Wheat Gluten, or no flour at all.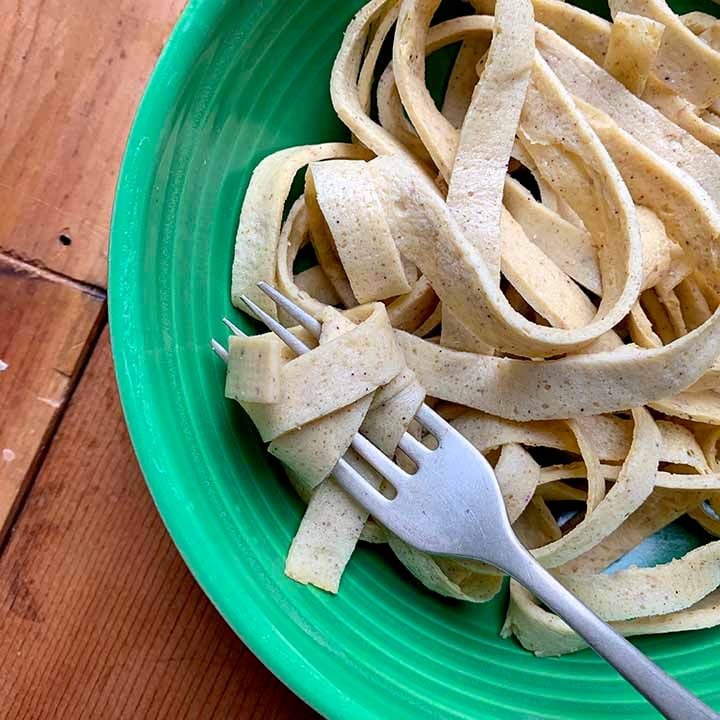 Other low carb sides:
You can serve it over cauliflower rice or mashed cauliflower. Zoodles (zucchini noodles) are always a good noodle alternative. ThinSlim Foods actually makes a fantastic low carb fettuccine noodle called an ImPASTAble Noodle. (Although it is completely PASTAble, if you ask me.) And you can buy some great low carb noodles from the Great Low Carb Bread Company as well.
So you've got options, noodle-wise.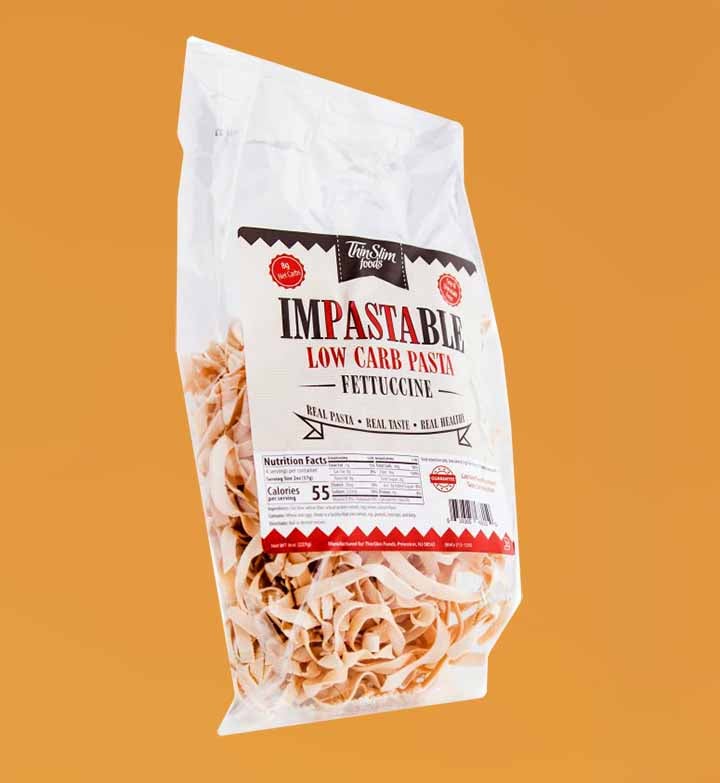 Best cuts of beef:
You want some juicy bites of steak, so I recommend these cuts:
boneless sirloin
sirloin steak tips
boneless rib eye AKA scotch fillet
beef tenderloin
top round beef
Make sure to give the meat a quick sear to lock in the juices.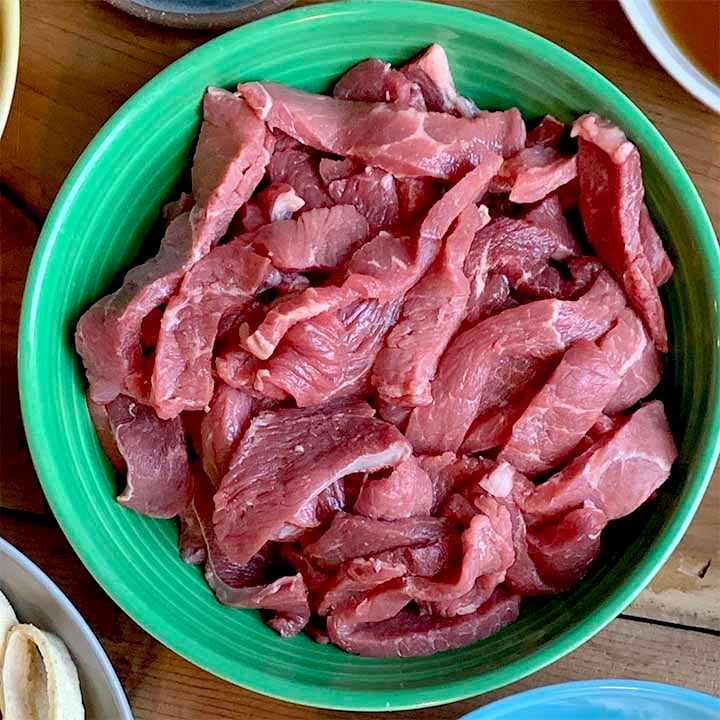 Ground beef?
Traditional Beef Stroganoff has bite sized pieces of steak of course, but if you want to use ground beef and cut down on the prep time, then I will look the other way. It is only a hop, skip and a jump away from Hamburger Helper though, to be honest.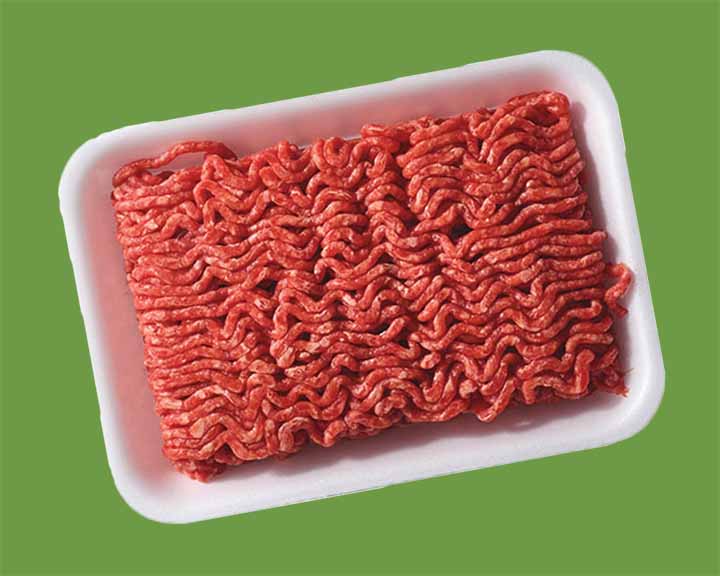 Shrooms anyone?
For this Keto Beef Stroganoff, I used simple, easy to find in the produce aisle, white button mushrooms. Either wash, dry and slice the mushrooms or, and I highly recommend this second option, buy pre-packaged washed and sliced mushrooms. You can get fancy with the shrooms if you'd like, and use cremini, portobello or baby bella mushrooms to add more umami goodness to the dish.
But the steak is the star of the show, so I stand by my buttons.
Vegetable sides:
One classic side is green peas. They add a bright flavor and a nice pop of color to the dish. They are higher in carbohydrate than you might like, so you should use them sparingly. But a ¼ of a cup of peas has just 3.5 grams of net carbohydrate, so I say go for it.
You'll still have a low carb meal the clocks in at under 10g net carbs.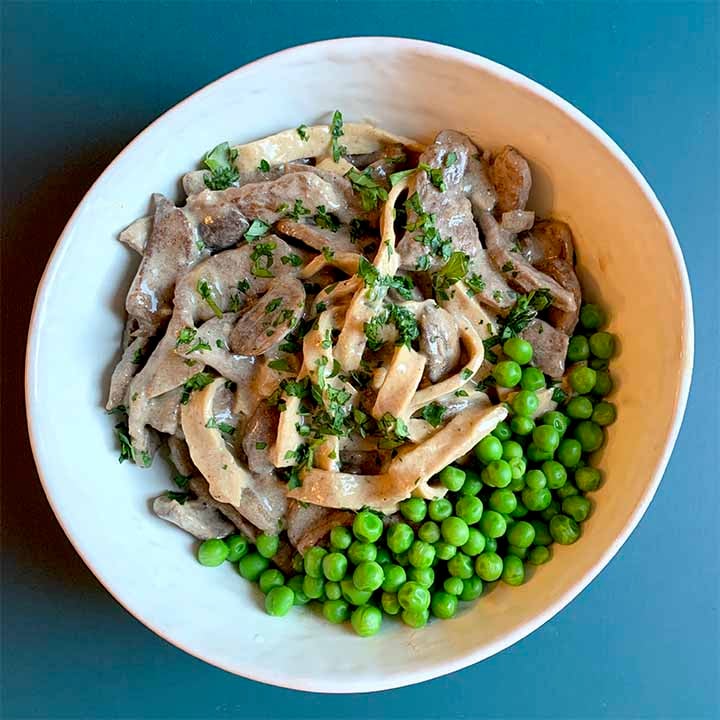 More vegetable sides:
Broccoli
Daikon radishes,
Kale,
Spinach
Asparagus
Brussel sprouts
Cauliflower
Butternut Squash
Green beans
Zucchini
You can't go wrong with any of them.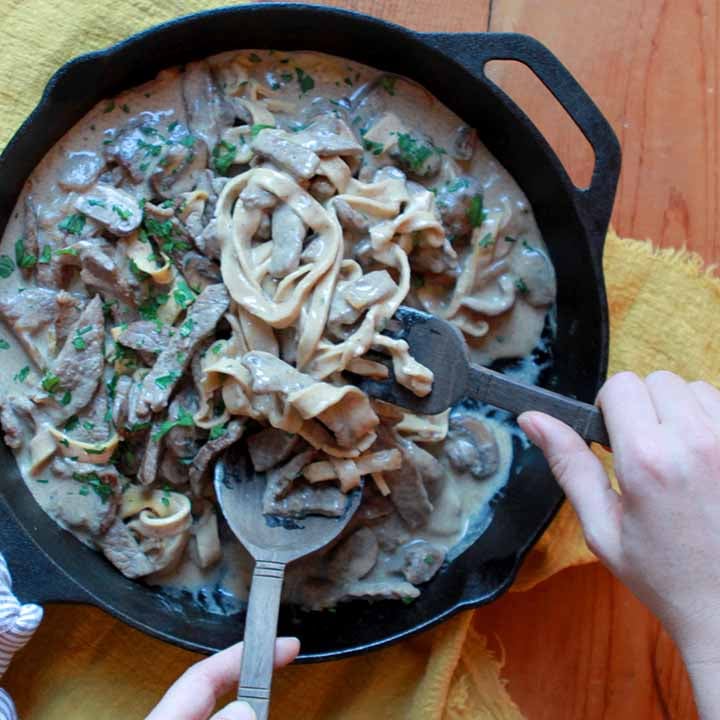 Carbs in Beef Stroganoff
In regular Beef Stroganoff with egg noodles, you are looking at a meal with 50-60g net carbs. But luckily, this Keto version has just 6g. Soooo much healthier.
How to make it:
First, you make your Psyllium Husk Noodles. Then sear the beef strips in olive oil. Remove them from the pan and cook the onions, mushrooms and garlic in butter. Move the vegetables aside and add beef broth to the pan and thicken it with Xanthan Gum. Temper the sour cream and then whisk it into the sauce and cook until thickened more. Add the beef back to the pan and simmer in the cream sauce for several minutes. Add noodles to the pan and cook until warmed through.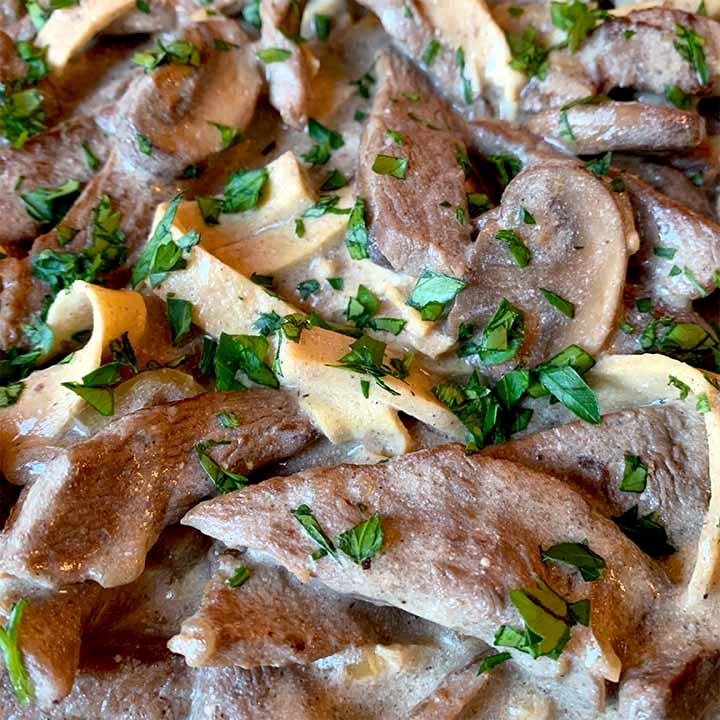 And you are done!
It only takes about 40 minutes to make this Keto Beef Stroganoff recipe. So you can make it for special occasions or on weeknights or just because you feel like eating a homey beef and noodles dinner. It is total comfort food. And since it is so low in carbohydrate, it won't wreck your Ketogenic Diet.
But enough about Pavel Stroganov's favorite dish.
Now I have an inexplicable urge to watch Stranger Things.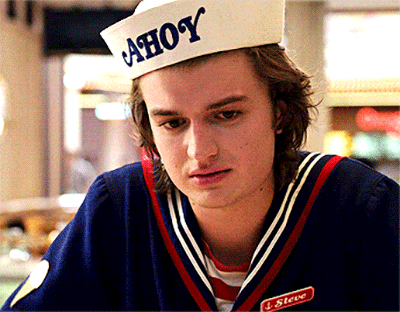 Print
📋 Recipe
Keto Beef Stroganoff Recipe
This is a low carb take on the classic Russian dish: Beef Stroganoff.  It's a hearty mixture of steak, egg noodles and mushrooms, enveloped in a dreamy sour cream sauce.
Author: Emily Krill
Prep Time:

10

Cook Time:

30

Total Time:

40 minutes

Yield:

6

servings

1

x
Category:

Entree

Method:

Stovetop

Cuisine:

Russian

Diet:

Diabetic
Beef Stroganoff:
2 tablespoons

extra virgin olive oil

2

pounds sirloin or top round beef, dried and thinly sliced into bite sized pieces

2 tablespoons

butter

½ cup

onion, thinly sliced

2

cloves garlic, minced

1 teaspoon

salt

¼ teaspoon

black pepper

8oz

mushrooms, sliced

1 teaspoon

Xanthan Gum

2 cups

beef broth

½ cup

sour cream
chopped parsley for garnish
Psyllium Husk Powder Egg Noodles:
https://www.resolutioneats.com/blog/low-carb-keto-psyllium-noodles/
Instructions
1.  Make egg noodles ahead of time, using the recipe found here:  https://www.resolutioneats.com/blog/low-carb-keto-psyllium-noodles/
2.  Heat 1 tablespoon oil in a large skillet over Medium High heat.  Sear beef in several batches, making sure not to overcrowd the pan.  Add more oil as needed.  Set beef aside.
3.  Add butter to the pan.  Add onions to the pan and cook for 1 minute.  Add mushrooms to the pan and cook for 5 minutes.  Add garlic, salt and pepper to the pan and cook for 1 minute more.
4.  Push the vegetables to one side of the pan and pour in beef broth. 
5.  Sprinkle Xanthan Gum over the broth, and quickly whisk it in.  Bring to a low simmer, 1-2 minutes, stirring all the time.
6.  Measure sour cream and add to a small bowl.  Quickly whisk some of the hot broth into the sour cream to temper it.  Pour the sour cream mixture into the pan and cook for 5 minutes until thickened.
7.  Add beef and any residual juices to the pan and simmer for 2 minutes more.  
8.  Add noodles and cook until warmed through, 2-3 minutes.
9.  Add to bowls and sprinkle with chopped parsley.
Equipment
Notes
Nutritional Info includes egg noodles
Nutrition
Calories:

608

Fat:

42

Carbohydrates:

12

Fiber:

6

Protein:

45
Keywords: Keto Beef Stroganoff, Low Carb Beef Stroganoff, Paleo Beef Stroganoff