This is an easy recipe for low carb and Keto fried dill pickles. It's a zero carb snack or appetizer that will please dieters and non-dieters alike.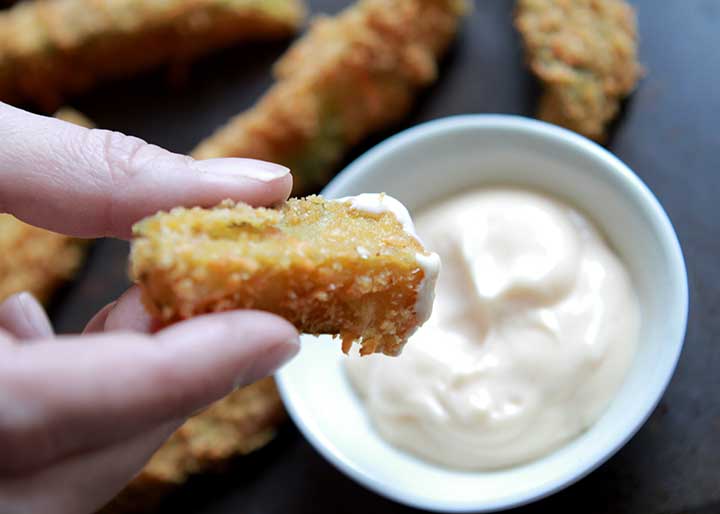 Hi ho.
Today I'm going to share my recipe for low carb and Keto fried pickles, but first, a little dill pickle humor. For Christmas this year I bought my 10 year old son a t-shirt with a pickle in sunglasses that says, DILL WITH IT, and he thought it was hilarious. So now, one of our family jokes is to tell each other to just DILL WITH IT. (The bar for humor is, obviously, not very high in our house.)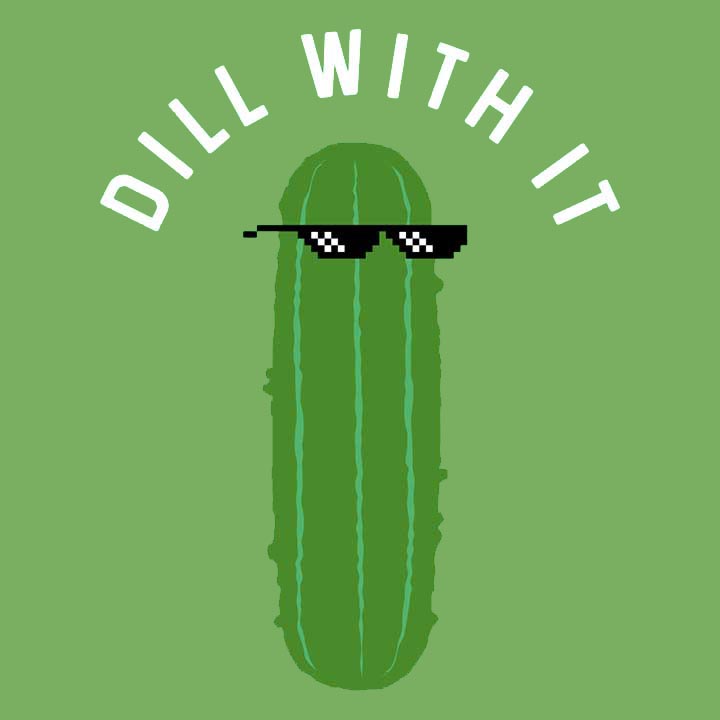 Annnnyhoo.
Let's talk about the kind of pickle that doesn't wear sunglasses. I'm talking about nice, naturally low carb, dill pickle spears. Now, I'm not exactly sure what spurred this recipe, since I have never had fried pickles in my life. But a few days ago I just got a hankering for them. So I've spent the last couple days experimenting with the best way to bread and fry up a pickle, low carb style.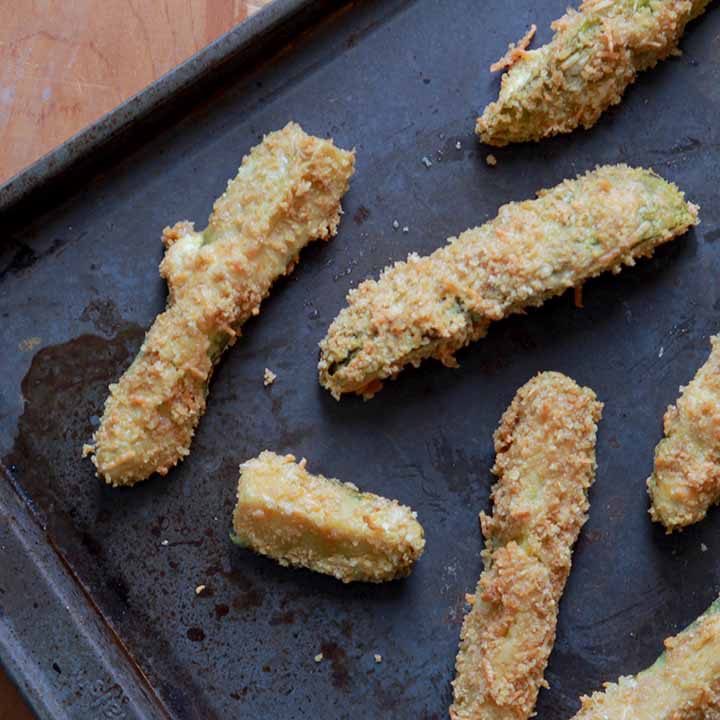 Luckily for us, making low carb fried pickles turned out to be pretty easy.
In order to bread the pickles, you'll need to set up an assembly line. First you coat the pickles in oat fiber, then you dip them in an egg wash, and finally you press them into a crunchy mixture of crushed pork rinds and parmesan cheese. Soon you'll be ready to cook them up.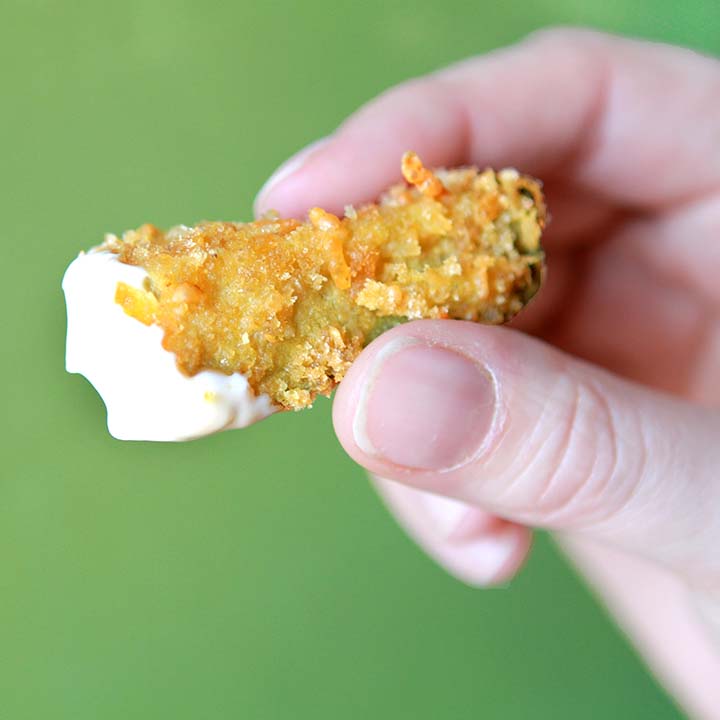 At this point, you are at a crossroads.
You can either fry the breaded pickles in oil, bake them in the oven or cook them in an air fryer. For this recipe, I found that the air fryer got the best results, but I've included instructions for oil fried and baked pickles as well.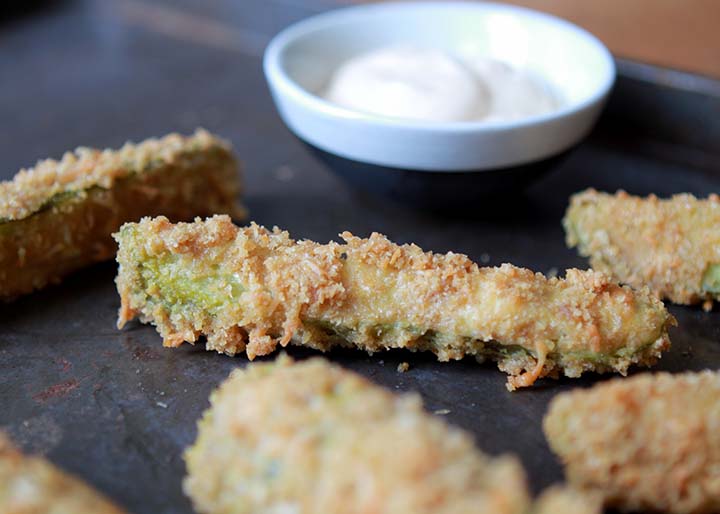 So there you have it.
Once you've cooked your dill pickles, you will have a tasty low carb snack or appetizer. And each pickle spear has just 30 calories and zero net carbs. So dig in. Your only problem will be all the friends who'll want to come over and eat all your fried pickles.
But whatever, you'll just have to DILL WITH IT.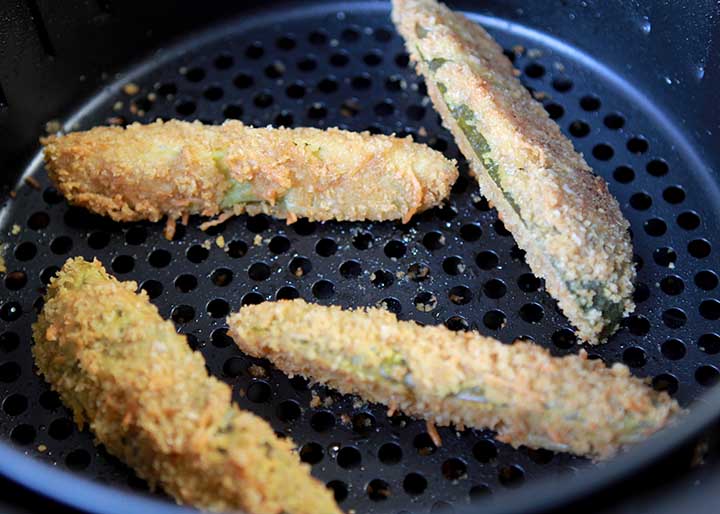 Print
Fried Pickles [Low Carb & Keto]
This is an easy recipe for low carb and keto fried dill pickles.  It's a zero carb snack or appetizer that will please dieters and non-dieters alike.
Author: Resolution Eats
Prep Time:

10

Cook Time:

9

Total Time:

19 minutes

Yield:

8

fried pickle spears

1

x
Category:

Appetizer

Method:

Air Fried

Cuisine:

American
8 no sugar dill pickle spears
½ cup (½ of a 3.5 oz bag) crushed pork rinds
¼ cup grated parmesan cheese
2 tablespoons oat fiber
1 large egg, beaten
1 tablespoon heavy whipping cream
Instructions
1.  Set up an assembly line with three shallow bowls.  
2.  Add oat fiber to the first bowl.
3.  Mix together the egg and cream in the second bowl.
4.  Blend pork rinds in a blender until they are the consistency of panko bread crumbs.  Mix with parmesan cheese in the third bowl.
5.  Pat the excess liquid off the pickle spears with paper towels.  
6.  Coat the outside of a pickle with oat fiber.  Dip the pickle into the egg wash so that it coats all sides.  Then press the pickle into the bowl of pork rinds and cheese until fully covered.
7.  Carefully place the breaded pickle on a large plate and repeat with the remaining pickles.  It's best to handle the pickles with tongs so that you don't rub off the breading before it's cooked and hardened around the spears.
8.  Cook the pickles by frying in oil, baking or air frying.  
AIR FRY:  Place 4 pickles in the basket of an air fryer.  Fry at 320 degrees F for 8-9 minutes until browned.  Repeat with the remaining 4 spears.
OIL FRY:  Add coconut or avocado oil to a large skillet so that will just cover the pickles.  Bring the temperature up to 375 degrees F and fry the pickles, 4 at a time, for 2-3 minutes, turning once.  Remove pickles to a paper towel covered plate to drain.  
BAKE:  Pre-heat oven to 400 degrees F and cover a cookie sheet with parchment paper.  Spray the parchment paper with cooking spray.  Place all pickles on the cookie sheet and spray them with the cooking spray.  Bake for 15 minutes, carefully flip the pickles and bake for 5 minutes more.  If the pickles haven't browned enough, then broil for 1 minute, watching carefully so that they don't burn.
Notes
Nutritional info is for air fried pickles.
Nutrition
Serving Size:

1 pickle spear

Calories:

30

Fat:

2

Carbohydrates:

2

Fiber:

2

Protein:

3
Keywords: Low Carb Fried Pickles, Keto Fried Pickles, Paleo Fried Pickles