This is a Keto recipe for classic Italian Meatball Soup, aka "Wedding Soup". It's a low calorie, low carb meal with just 110 calories and 1g net carbs per bowl.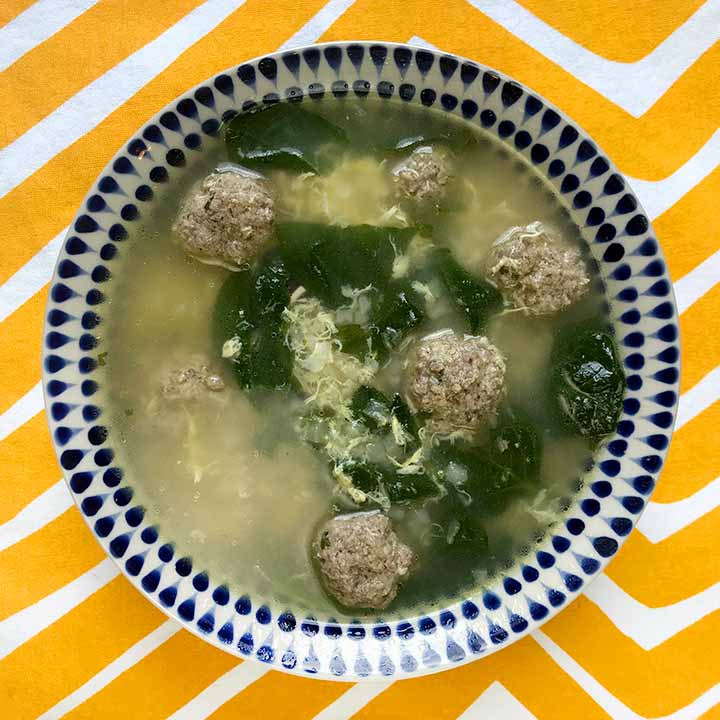 Buon giorno
Today I'm going to share a recipe for low carb Italian wedding soup, so obviously, I've been thinking about Adam Sandler's seminal 1998 film, "The Wedding Singer".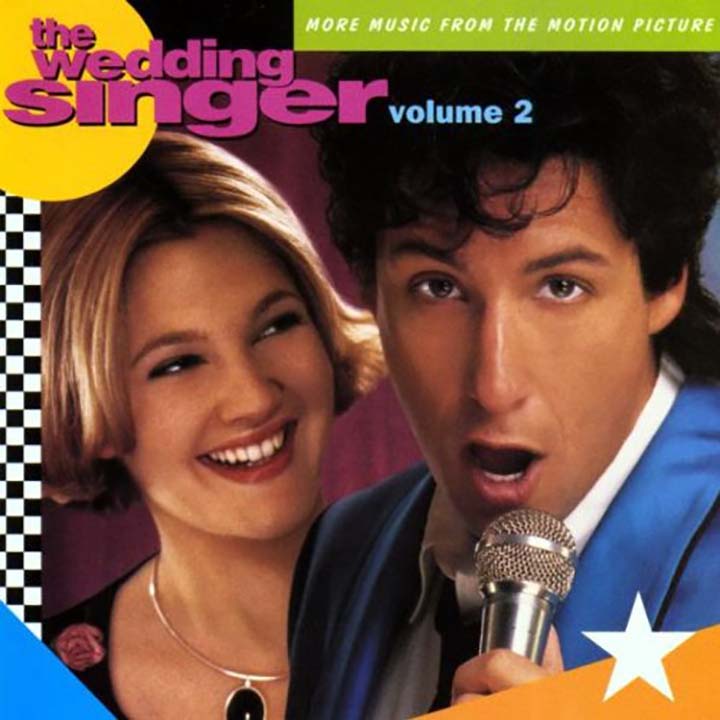 Say what you will about Adam Sandler movies, but this one actually has an amazing soundtrack.
It's a veritable Who's Who of 1980's pop singers, from Billy Idol to Wham! to The Culture Club to Run DMC to Lionel Ritchie. So in order to get you in the mood for this wedding soup, I've cobbled together a Youtube playlist from the soundtrack. (Video Playlist below)
So hit play and let's make some low carb wedding soup!
When you are making Keto meatball soup, you can go as big or as small as you want .
Traditional wedding soup has meatballs, garlic, onions, carrots, celery, a leafy green and some sort of small Italian pasta in a thin broth. So this can be an "everything but the kitchen sink" kind of soup.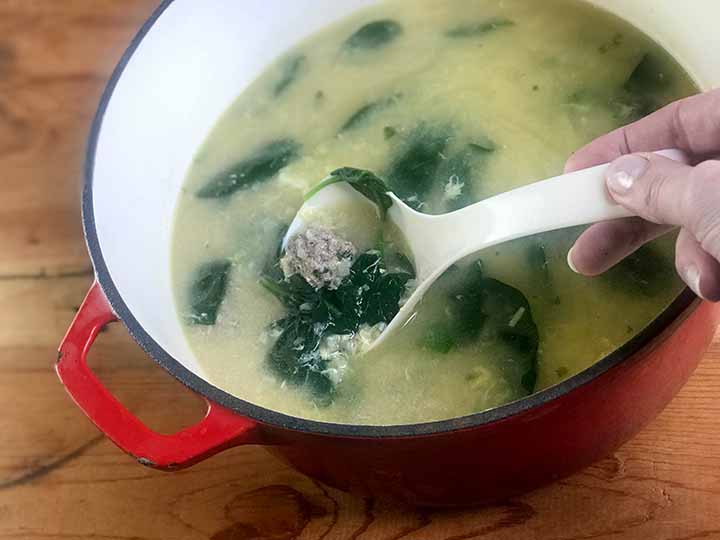 But it doesn't have to be.
In looking through different meat ball soup recipes, I was drawn to a simple Italian wedding soup recipe that Giada De Laurentiis makes. It's just chicken broth, meatballs, curly endive, eggs and parmesan cheese. So I based this low carb soup on her's.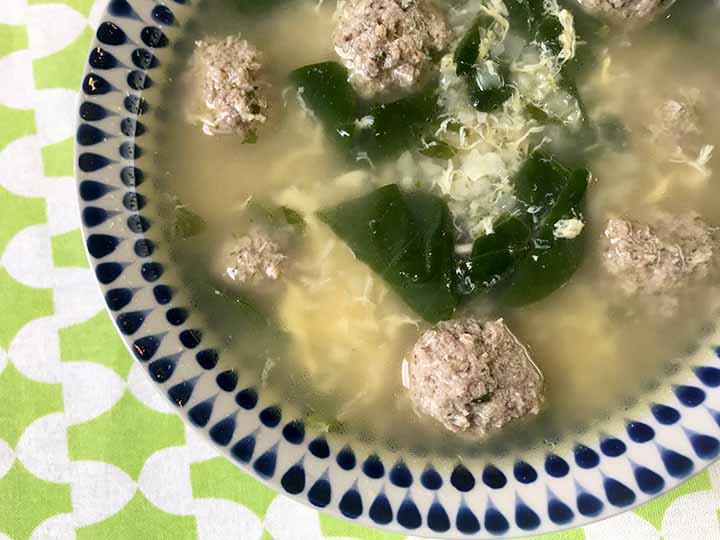 This meatball soup recipe only needed a few substitutions to make it low carb and Keto.
I made the meatballs low carb by using almond flour as a filler instead of bread. And I swapped out the endive for spinach, since it's a lot easier to find at the supermarket. I threw in some cauliflower rice in place of traditional Italian pasta, because it does add a nice touch. And the soup is finished by swirling in a mixture of parmesan cheese and eggs much like an egg drop soup. It makes for a lovely texture to add to the mix.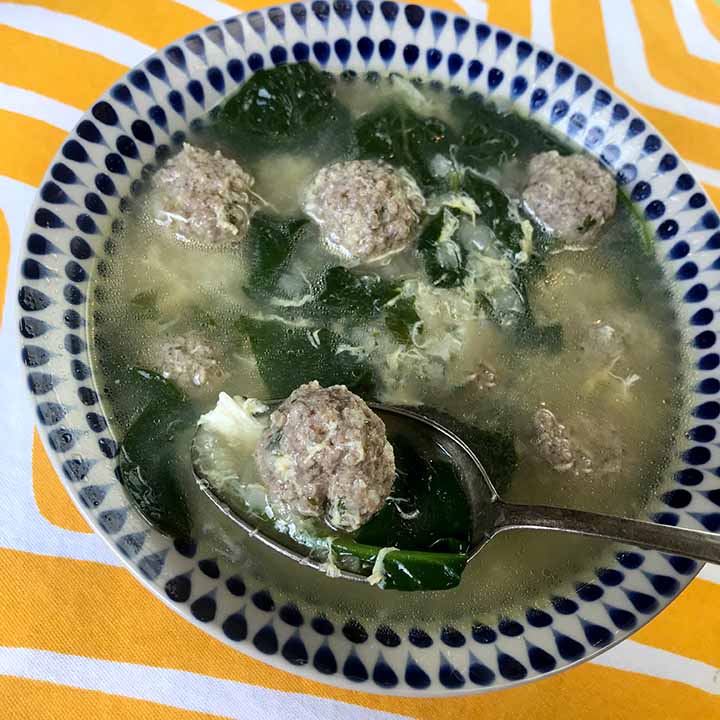 I do have one warning for you though.
The tiny little meatballs are pretty tedious to make. Giada's recipe called for 1 pound of meatball meat, made into little teaspoon sized meatballs. But I only got halfway through the meat before giving up the ghost. So my recipe has half the meatballs, which is, honestly, the perfect broth to meatball ratio. Trust me, you do not need to be making itty bitty meatballs all night long.
No my friends, you should be following Lionel Ritchie's advice and dancing in the streets all night long.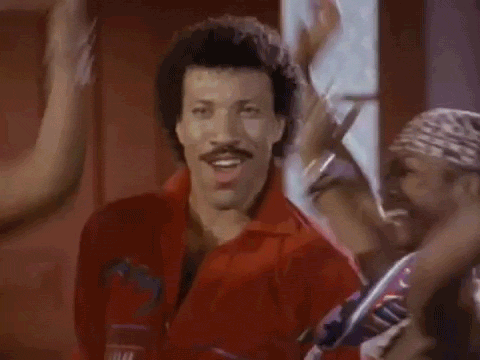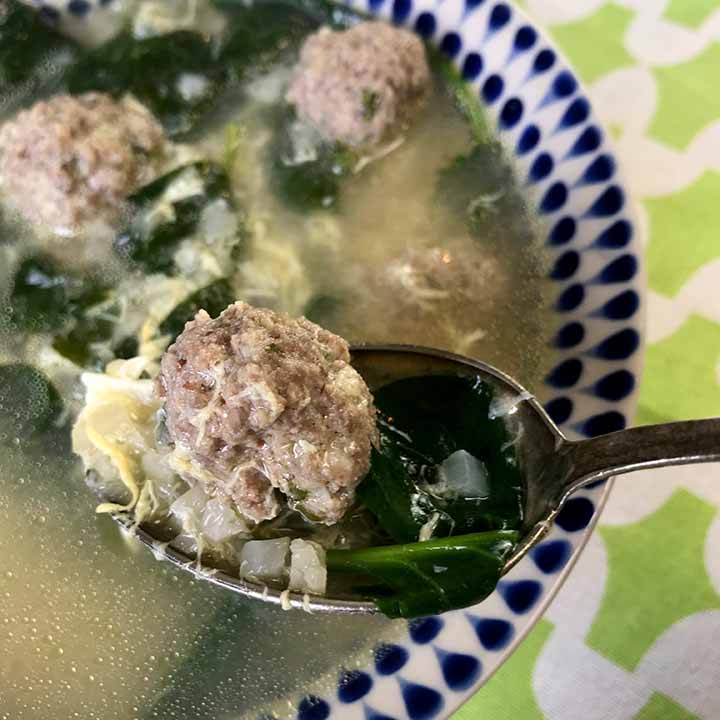 Print
Meatball Soup [Low Carb & Keto]
This is a Keto recipe for classic Italian Meatball Soup, aka "Wedding Soup".  It's a low calorie, low carb meal with just 110 calories and 1g net carbs per bowl.
Author: EmilyKrill
Prep Time:

20

Cook Time:

15

Total Time:

35 minutes

Yield:

10 cups

1

x
Category:

Soup

Method:

Stovetop

Cuisine:

Italian
Meatballs:
½ pound ground beef
1 clove garlic, minced
½ teaspoon salt
¼ cup parmesan cheese
¼ cup super fine almond flour
2 tablespoons egg, beaten
3 tablespoons fresh parsley, chopped
3 tablespoons white onion, grated
Soup:
10 cups chicken broth
1 cup cauliflower rice
2 cups baby spinach
2 large eggs, beaten
2 tablespoons parmesan cheese
Instructions
1.  Mix all meatball ingredients together in a medium sized bowl.  Roll heaping teaspoons of meatball mixture into 1 inch sized meatballs with your hands.  Place the meatballs on a large cookie sheet.
2.  In a large soup pot, bring chicken broth to a low boil.  
3.  Lower heat and simmer as you add meatballs and cauliflower rice.  Simmer for 8 minutes or until meatballs are cooked through.  A foam will form as the meatballs cook, but it will subside as you simmer the broth.  
4.  Add baby spinach and cook for 1-2 minutes until wilted.
5.  Mix together eggs and parmesan cheese.  Stir in a circular motion and slowly pour egg mixture into the pot, stir with a fork until strands form, 1 minute.
6.  Serve garnished with grated parmesan cheese. 
Nutrition
Serving Size:

1 cup

Calories:

111

Fat:

7

Carbohydrates:

2

Fiber:

1

Protein:

11
Keywords: Low Carb Meatball Soup, Keto Meatball Soup, Paleo Meatball Soup