Keto Meatball Soup, aka Wedding Soup, is a fabulous low carb Italian soup with only 110 calories and 1g net carbs. It makes a great appetizer or main dish.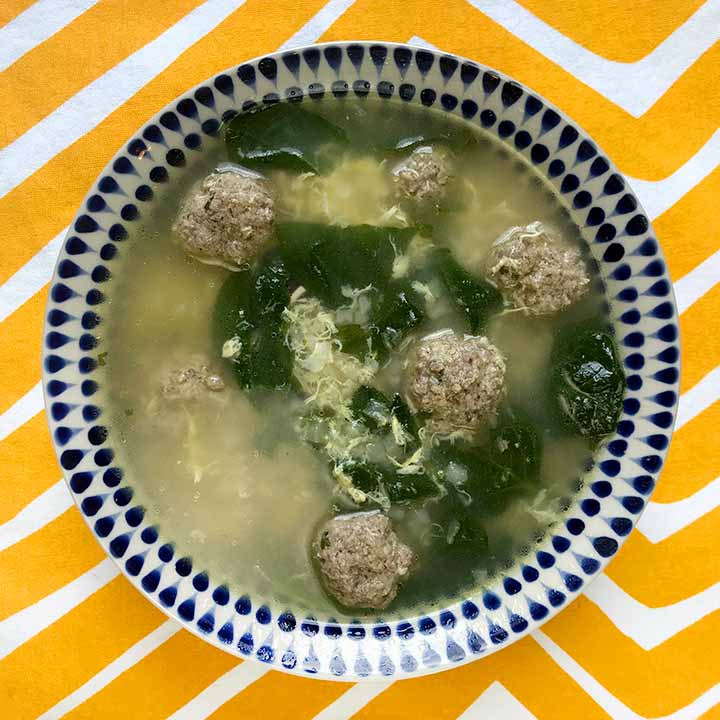 I just made a whole mess of meatballs, so obviously, I've been thinking about the time on the Office when Jim filled Dwight's desk drawer with meatballs.
But soup, let's talk about this Meatball Soup I just made.
What is Meatball Soup?
Traditional Meatball or Wedding Soup has meatballs, garlic, onions, celery, a leafy green, and some sort of small Italian pasta in a thin broth. So this can be an "everything but the kitchen sink" kind of soup.
Where did Meatball Soup originate?
It comes from Italy where it is known as "minestra maritata" which means "wedded broths". So the name Wedding Soup doesn't actually refer to soup eaten at weddings. It means a soup where the flavors are wedded together. Common misconception.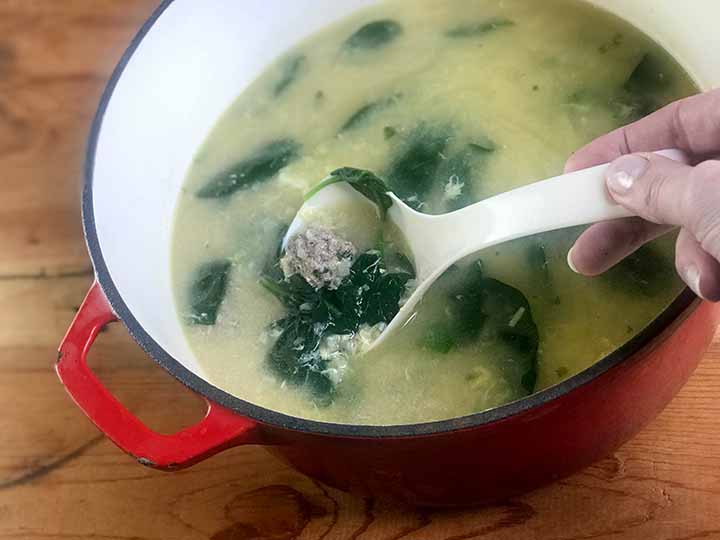 Is Meatball Soup Keto?
Short answer: no. Classic Meatball Soup uses pasta noodles so it isn't Keto. And meatballs are usually made with bread or bread crumbs, so meatballs are not so Keto either.
Can you make Meatball Soup Keto?
Yes!  You can make the meatballs low carb by using almond flour as a filler instead of bread.  And you can replace the high-carb pasta with cauliflower rice and get some good veggies into your diet.  The remaining ingredients of leafy greens, chicken broth, parmesan cheese, and eggs are already Keto-friendly, so no worries there.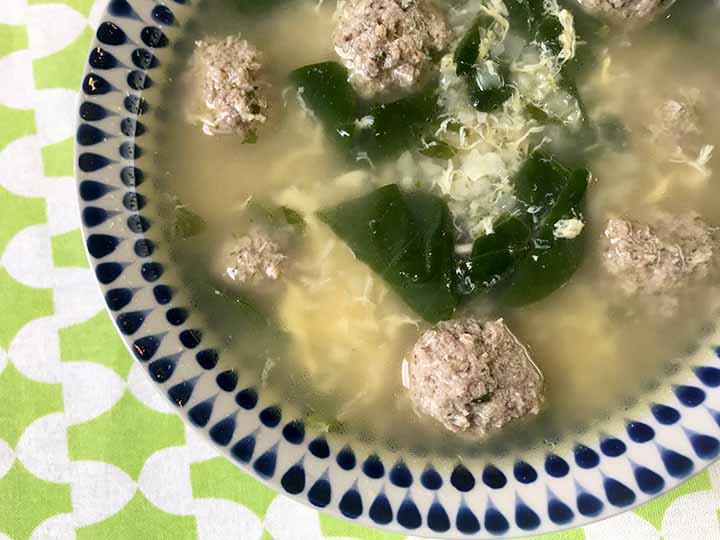 TIPS FOR MAKING KETO MEATBALL SOUP
When you are doing Keto, healthy fat is your friend, so use ground beef with a high fat content for a more flavorful soup with a boost of fat for energy.
This recipe uses cauliflower rice, so you can either make it yourself by cutting a head of cauliflower into tiny pieces with a knife, using a grater or blending it in a high powered blender.  Or you can just buy riced cauliflower at the store. Do that last one.
Almond flour used to be a specialty low carb ingredient, but these days you can often find it in your local grocery store or big stores like Aldi, Costco and Walmart.  Buy a large 2 pound bag, because if you are on a low carb diet you'll use it up.
This soup is even better the next day, so make sure to leave some leftovers. If you can.
Keto Meatball Soup can be eaten as an appetizer or you can add some low carb bread and make it into a meal. I've got tons of Keto bread recipes on this site.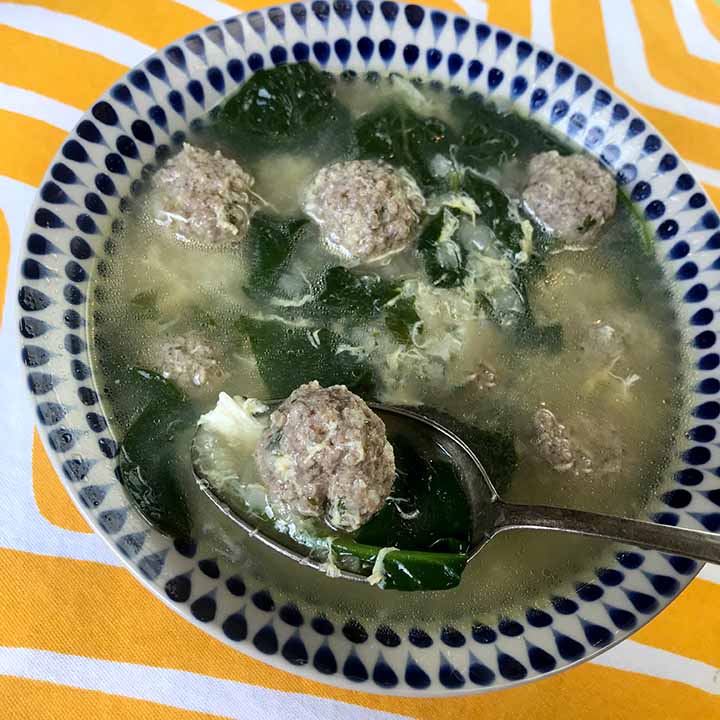 And that's all I've got, Meatball Soupwise.
Soon you'll be enjoying a fabulous bowl of low carb Italian soup with only 110 calories and 1g net carbs.
So yea, consider yourself meatballed.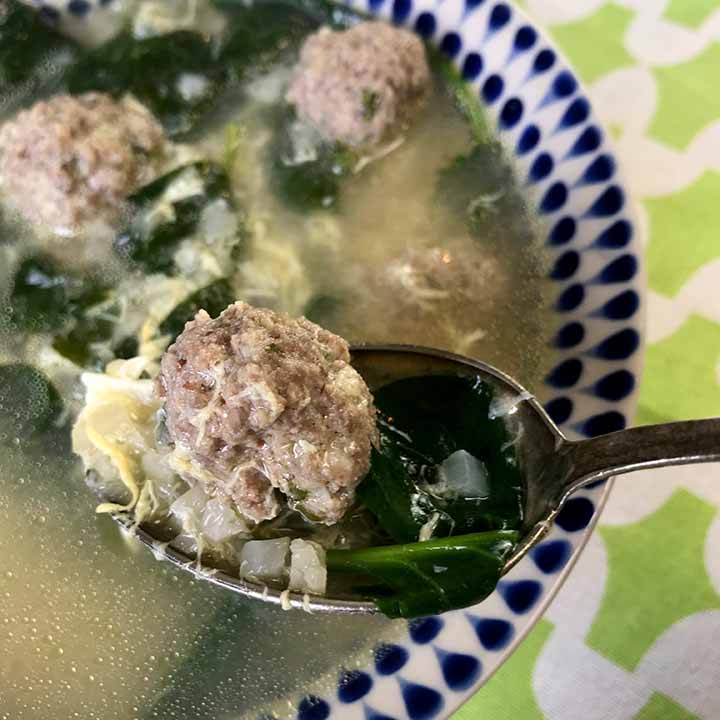 Print
📋 Recipe
Keto Meatball Soup
This is a Keto recipe for classic Italian Meatball Soup, aka "Wedding Soup".  It's a low calorie, low carb meal with just 110 calories and 1g net carbs per bowl.
Author: Emily Krill
Prep Time:

20

Cook Time:

15

Total Time:

35 minutes

Yield:

10 cups

1

x
Category:

Soup

Method:

Stovetop

Cuisine:

Italian

Diet:

Low Calorie
Meatballs:
½

pound

ground beef

1

clove garlic, minced

½ teaspoon

salt

¼

cup

parmesan cheese

¼

cup

almond flour

2 tablespoons

egg, beaten

3 tablespoons

fresh parsley, chopped

3 tablespoons

white onion, grated
Soup:
10

cups

chicken broth

1

cup

cauliflower rice

2

cups

baby spinach

2

large eggs, beaten

2 tablespoons

parmesan cheese
Instructions
Step 1.  Mix all meatball ingredients together in a medium-sized bowl.  Roll heaping teaspoons of meatball mixture into 1 inch sized meatballs with your hands.  Place the meatballs on a large cookie sheet.
Step 2.  In a large soup pot, bring chicken broth to a low boil.  
Step 3.  Lower heat and simmer as you add meatballs and cauliflower rice.  Simmer for 8 minutes or until meatballs are cooked through.  A foam will form as the meatballs cook, but it will subside as you simmer the broth.  
Step 4.  Add baby spinach and cook for 1-2 minutes until wilted.
Step 5.  Mix together eggs and parmesan cheese.  Stir in a circular motion and slowly pour egg mixture into the pot, stir with a fork until strands form, 1 minute.
Step 6.  Serve garnished with grated parmesan cheese. 
Nutrition
Serving Size:

1 cup

Calories:

111

Fat:

7

Carbohydrates:

2

Fiber:

1

Protein:

11
Keywords: Low Carb Meatball Soup, Keto Meatball Soup, Paleo Meatball Soup
If you liked this low carb soup recipe, then you might like my recipes for Beef Vegetable, Chicken Soup with Rice or Tomato Soup.