This is the quickest Keto granola recipe on the whole darn Internet. It's grain-free, gluten-free sugar-free and has just 5g net carbs.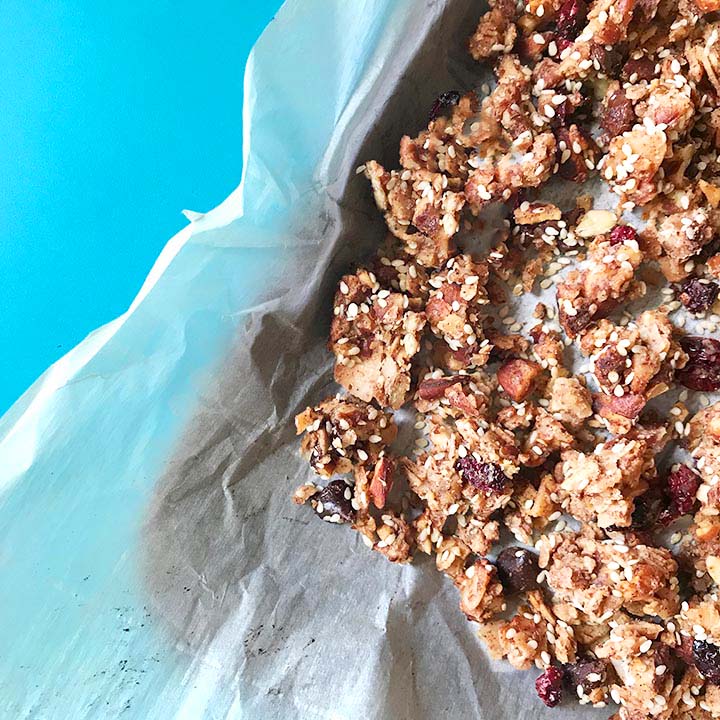 I've said it before and I'll say it again.
Snacks are everything when you are on a low carb diet.  If you don't have something close at hand when you start feeling peckish, then you'll be sorely tempted to scrap the diet and eat a bag of potato chips.  But you must RESIST! 
Luckily, this Keto Granola recipe can help.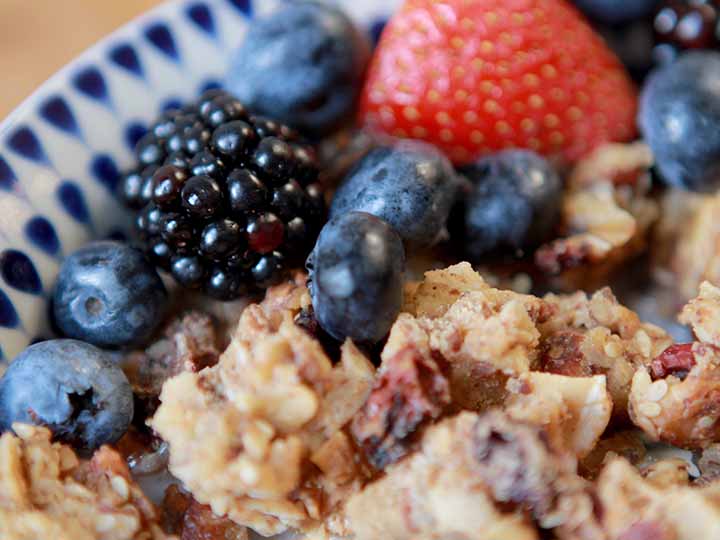 "But is granola Keto?" you may well ask.
And the answer is: NOT AT ALL! But that's ok, we don't need oats, nuts, seeds, dried fruit, coconut and honey to make our low carb granola. Well, I mean, we'll use some of those ingredients. Nuts, seeds and coconut are naturally low in carbohydrate, so we'll use them in our granola. And sugar-free dried cranberries are a thing, a very sour thing, but a thing nonetheless.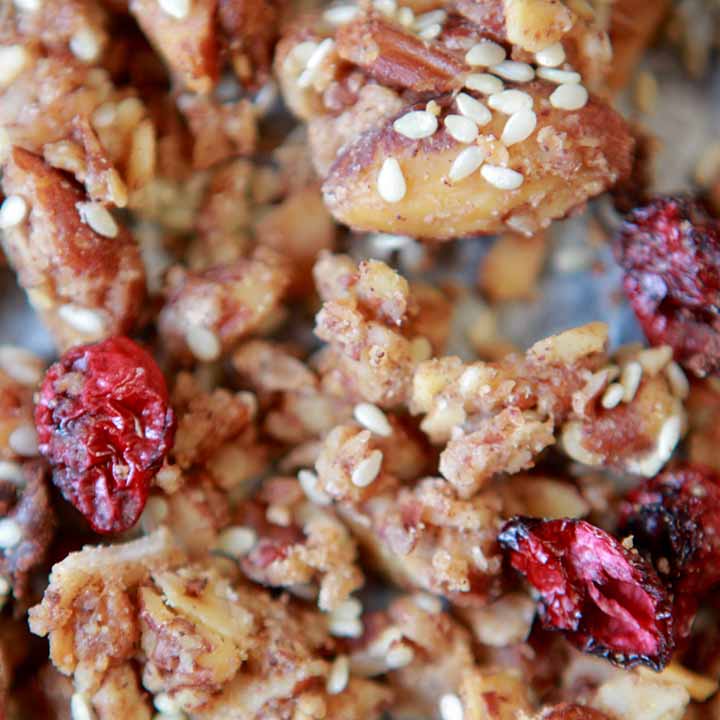 So what is in this Keto Granola?   
I'm glad you asked. Instead of those high carb ingredients, we'll use low glycemic almonds, pecans, sesame seeds and coconut flakes. Instead of honey, we'll use a sugar-free erythritol sweetener. And the granola clusters are held together with a mixture of almond butter, coconut butter and egg whites.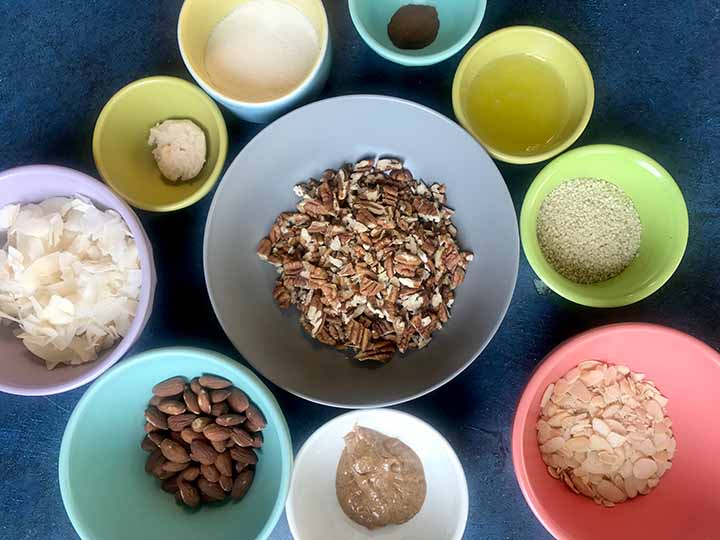 Now, this recipe calls for almonds and pecans, but that isn't written in stone.
You can substitute in other low carb nuts like macadamia nuts, walnuts, Brazil nuts, hazelnuts, cashews, or pistachios. Just make sure that the nuts equal 3 cups.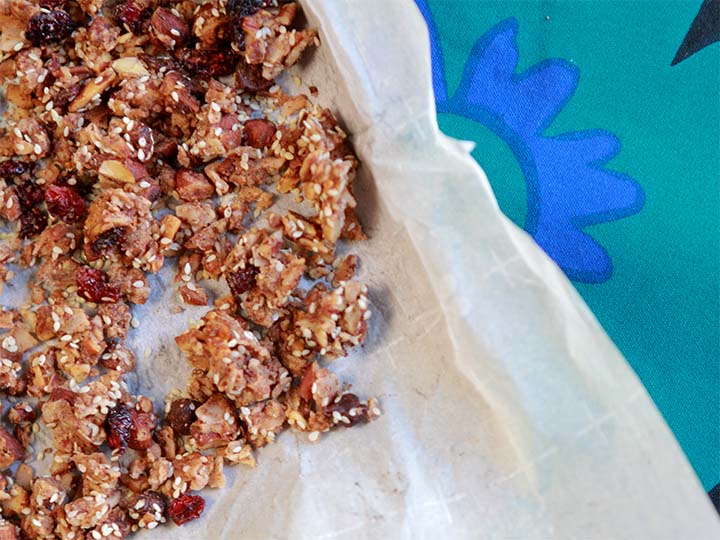 Some people think that peanuts are acceptable on the Keto diet, but other people decidedly do not.
Peanuts are actually legumes and not nuts, and legumes are against the rules of Strict Keto. So if you are pro-peanut, then you can use them in this Keto granola, and if not, then I pity you. A life without peanuts is no life at all.
How do you make this low carb granola recipe?
First you'll toast some almonds, pecans and coconut flakes in the oven, and pulse them a couple times in the blender  Then you'll mix up sugar-free sweetener, cinnamon, egg whites, almond butter and coconut butter.  Mix the wet and the dry and then add in sesame seeds.  You can add in sugar-free chocolate chips or unsweetened dried cranberries at this point, but they are optional.  Put the mixture in a pan, bake it, let it cool and then crumble it into granola clusters.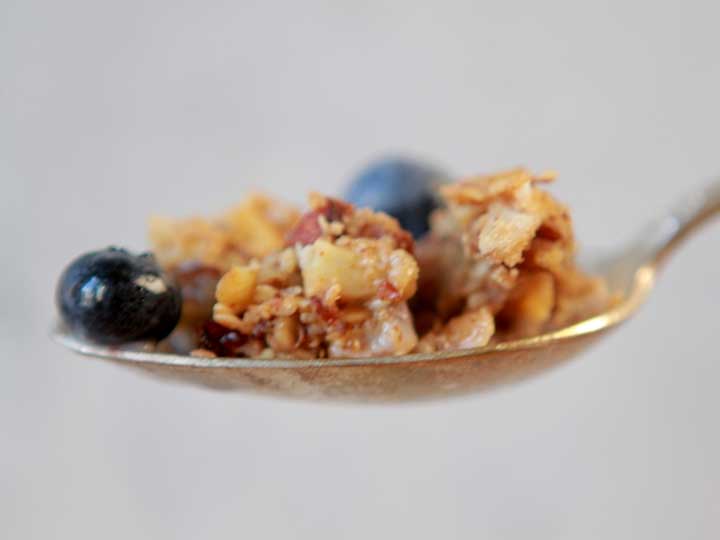 What can you pour on this low carb Keto granola, now that milk is out of the picture?
Not to worry. There are some really good milk alternatives out there. You can use unsweetened almond milk, cashew milk or light coconut milk.
Or, if you are attached to dairy, you can make your own milk by watering down heavy whipping cream.
It's a 1:9 ratio, of 1 part cream to 9 parts water. So, for example, you could mix 2 ¼ cups water and ¼ cup cream you'll have 2 ½ cups of low carb milk. When you compare the two, the same amount of milk has 29g carbs whereas the watered down cream has just 2g.
And you can't go wrong by adding a few berries on top.
Or you could make a parfait with granola, berries and Greek yogurt. That's another yum. If you have more berries, you can mix up a cobbler using granola as the crumble topping. Or you can just eat it plain, by the handful. Really, there is no limit to what you can do with your homemade low carb Keto granola.
Because, you know what they say.
On a low carb diet, snacks are everything.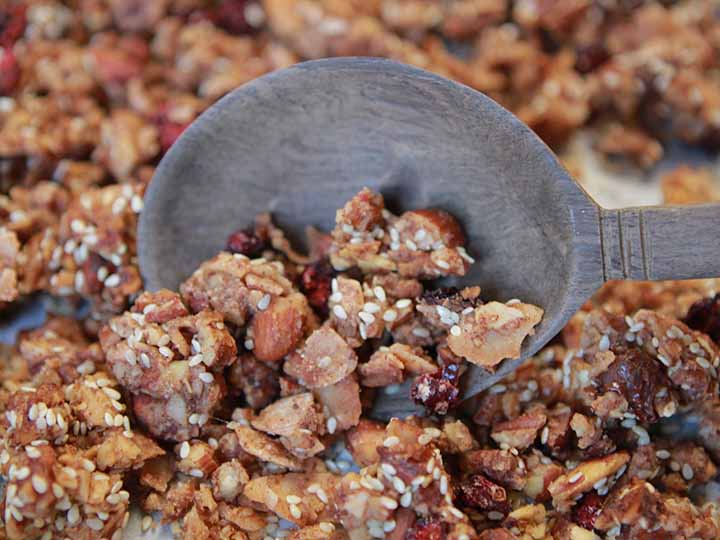 Print
Quick Keto Granola
This is the quickest Keto granola recipe on the whole Internet.  It's grain-free, gluten-free sugar-free and has just 5g net carbs.
Author: Resolution Eats
Prep Time:

10

Cook Time:

24

Total Time:

34 minutes

Yield:

6 cups

1

x
Category:

Snack

Method:

Baked

Cuisine:

American
Instructions
1.  Pre-heat oven to 375 degrees F and get out parchment paper, a large cookie sheet and an 8x8 or 9x9 baking pan.
2.  Add the almonds and pecans to the parchment covered cookie sheet.  Toast nuts for 4-5 minutes until just starting to brown.  Add coconut flakes and toast for 2-3 minutes more.  Keep a close eye on them because it is very easy to burn them.
3.  Add nuts and coconut flakes to a blender and pulse.  Shake the blender to mix the ground nuts and the unground nuts.  Pulse and shake a couple more times until the nuts are all broken up but not completed ground up.  
4.  Add almond butter and coconut butter to a small microwave safe bowl and microwave for 30 seconds until melted.  Stir together until smooth.
5.  In a large bowl, whisk together egg whites, sweetener and cinnamon.
6.  Mix in the coconut and almond butter mixtures.
7.  Mix together the wet and the dry ingredients.  Fold in sesame seeds.  Fold in chocolate chips or dried cranberries if you are using them.*  
8.  Use the parchment that you used to toast the nuts to line a 8x8 or 9x9 baking pan.  Press the parchment paper into the bottom of the pan and fold the paper at the corners. You don't need to do it, but it helps if you grease the pan beforehand, because then the parchment paper will stick to the sides and bottom of the pan.
9.  Bake for 15-18 minutes until just starting to brown.  Cool the granola mixture in the pan for 1 hour.
10.  Cut the granola roughly to break it into large pieces.
11.  Use you hands to crumble the mixture into clusters.  
Notes
*The dried cranberries and chocolate chips or optional, but they add some different flavors and textures to the mix. 
THERE ARE STEP-BY-STEP PHOTOGRAPHS BELOW THE RECIPE 
Nutrition
Serving Size:

½ cup

Calories:

272

Fat:

24

Carbohydrates:

10

Fiber:

5

Protein:

6
Keywords: Low Carb Granola, Keto Granola, Gluten Free Granola, Sugar Free Granola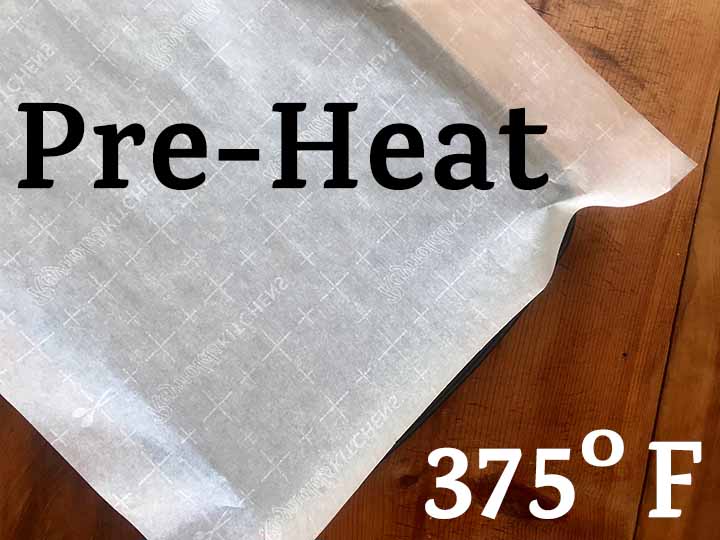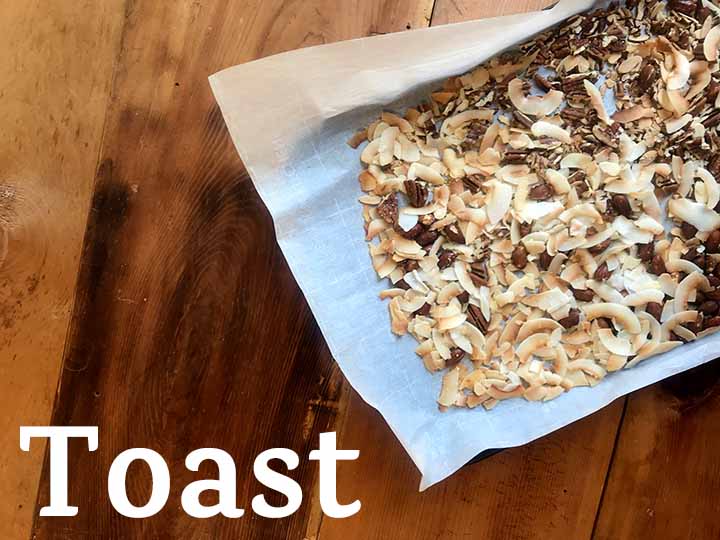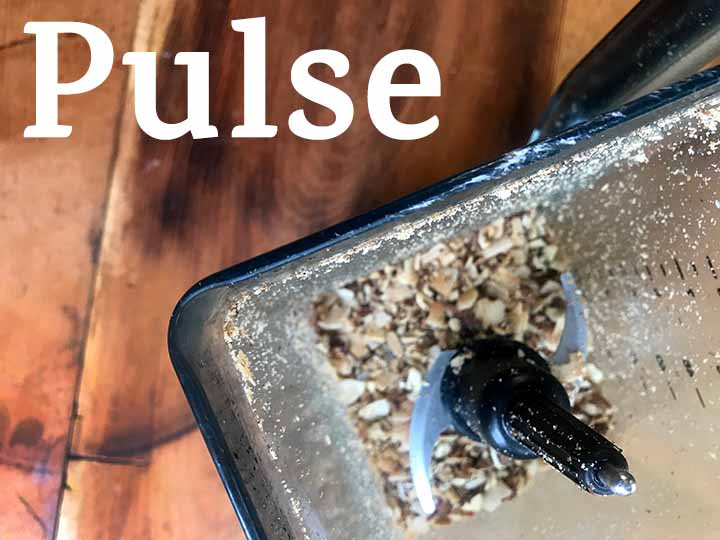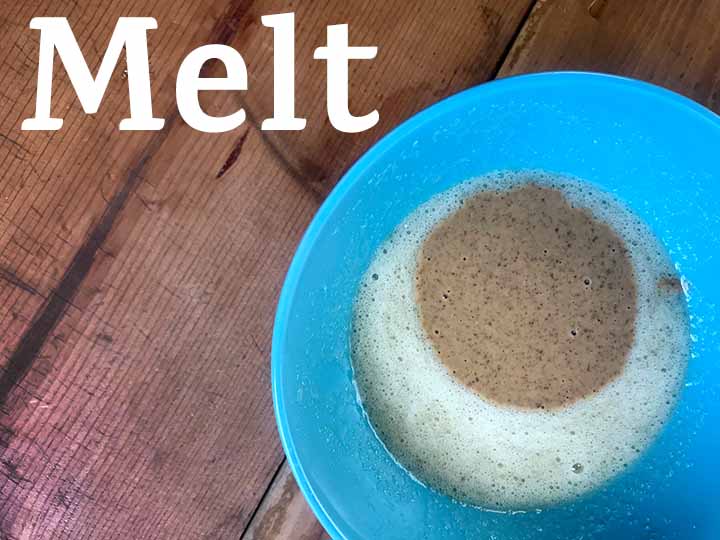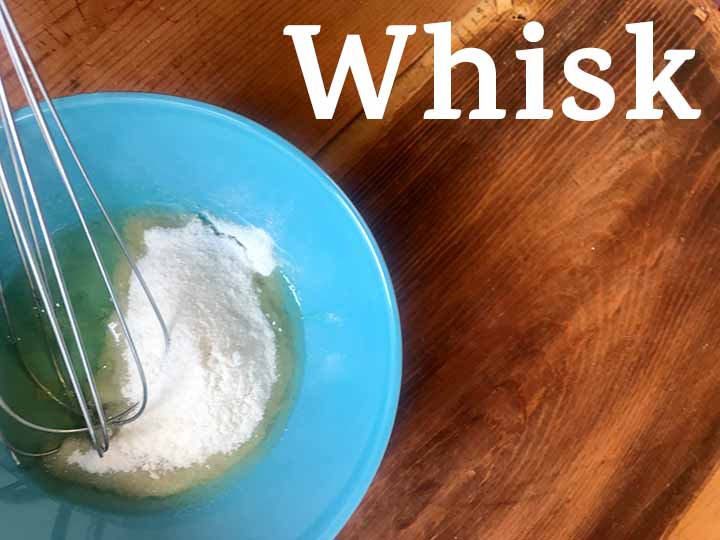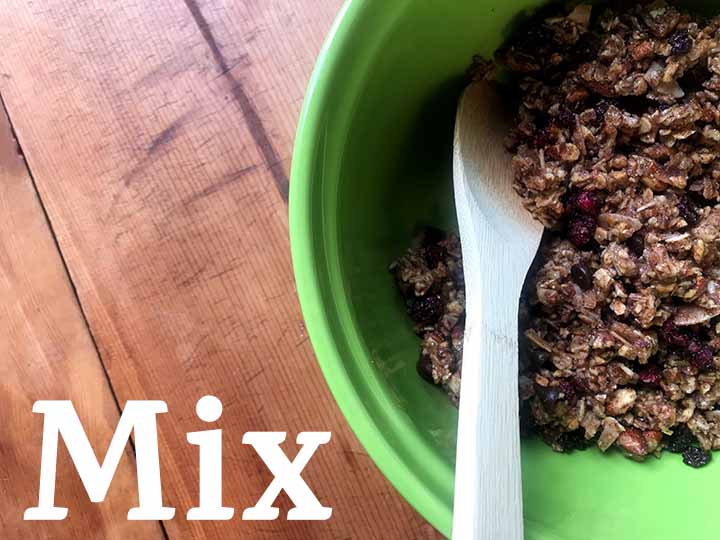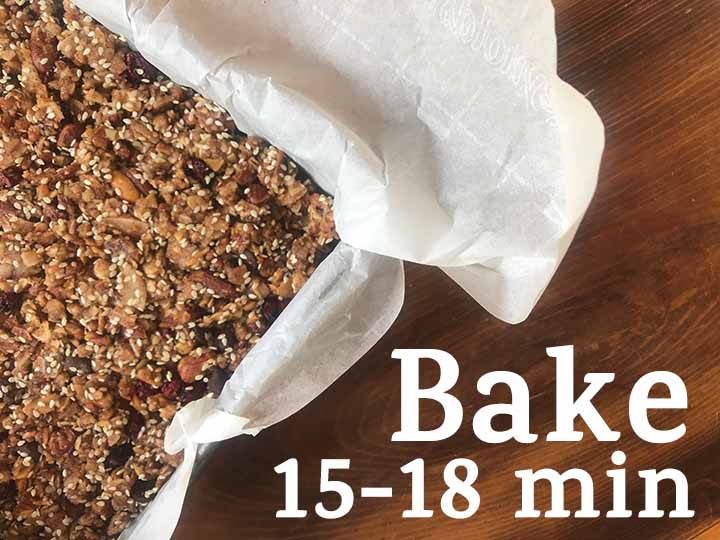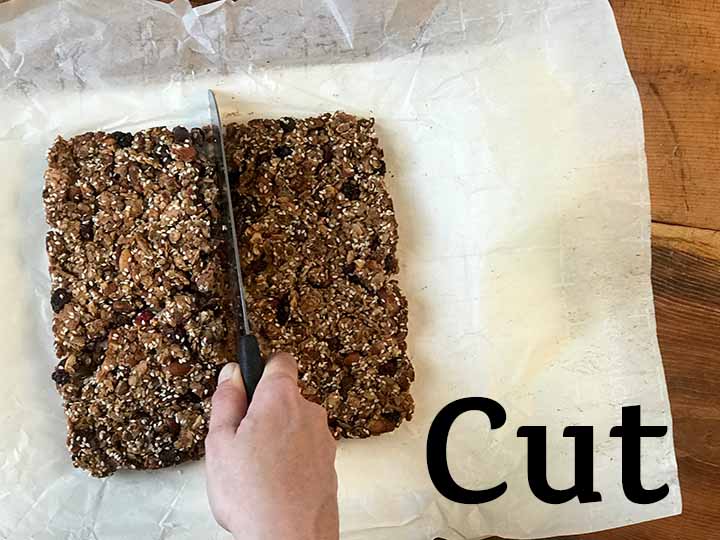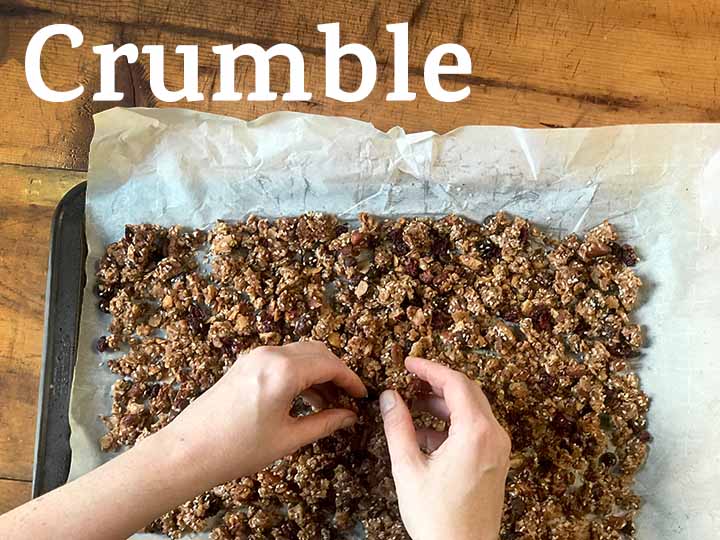 IF YOU LIKES THIS LOW CARB BREAKFAST RECIPE, THEN YOU MAY LIKE MY RECIPES FOR CHEESE GRITS, WAFFLES, OR EGGS BENEDICT.