This Pork Filled Cabbage Dumpling recipe uses steamed cabbage leaves in place of dough, so it's a much healthier way to make these classic Chinese appetizers.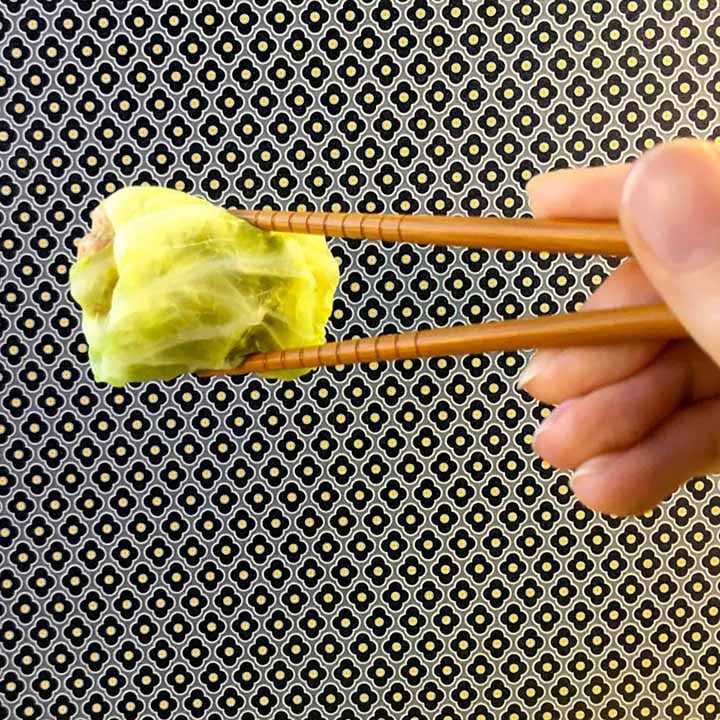 Jump to:
Hello dumplings
Today I'm going to share a recipe for delicious Pork Filled Cabbage Dumplings, a classic starter that you can eat on just about any diet.  These little dumplings are Low Carb, Keto, Paleo and Low-Calorie, as well as being MSG-Free, Grain-Free, Sugar-Free and Gluten-Free.
They are all the frees.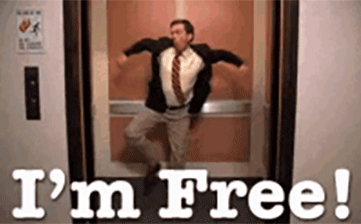 What are cabbage dumplings?
Cabbage Dumplings are a healthier alternative to classic Chinese dumplings. They use softened cabbage leaves instead of a traditional dough wrapper, which ups the veggies and lowers the carbs.
Carbs in cabbage dumplings?
Regular dough wrapped pork dumplings have about 25g net carbs. But cabbage wrapped dumplings have just 4g. So if you are on a Keto diet, then these babies are the way to go.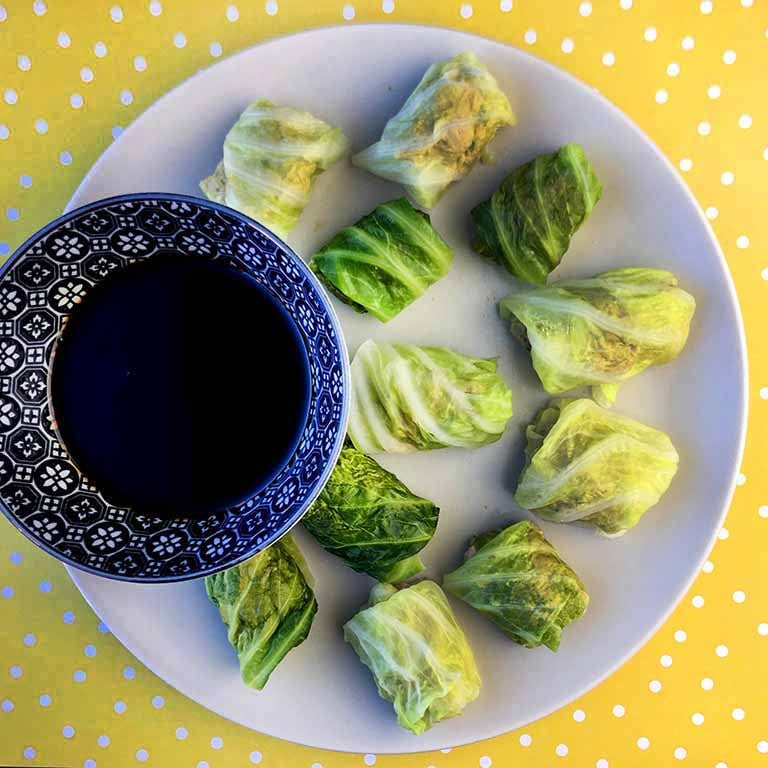 Ideas for Mains
They make a great appetizer before any Chinese meal. I've got healthified versions of all kinds of Asian recipes on this site, like Sesame Chicken, Shrimp Stir Fry, Asian Marinated Salmon, BBQ Pork, Pork Fried Cauliflower Rice, Sweet and Sour Chicken, Scallion Pancakes and Egg Drop Soup.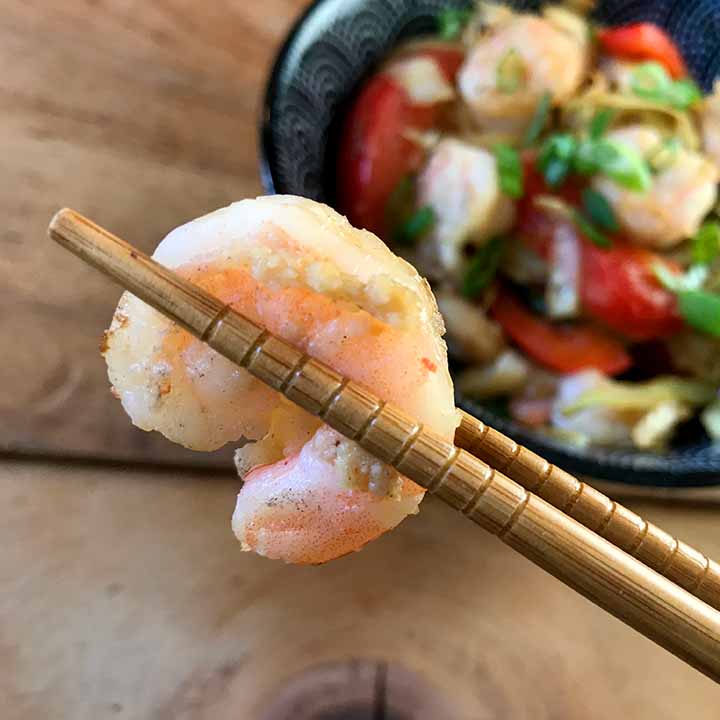 Ingredients
For the filling, you'll need: fresh ginger, scallions, ground pork, eggs, bouillon, coconut aminos or soy sauce, and almond flour. And you'll need the leaves of about a ½ a head of cabbage.
For a dipping sauce, the ingredients are: coconut aminos or soy sauce, vinegar and chili oil.
To make them a little bit healthier, try adding more veg.
You can use some combination of:
Carrots
Shitaki Mushrooms
Cremini Mushrooms
Oyster Mushrooms
Onions
Scallions
Cabbage
Edamame Beans
You can also use tofu or ground chicken place of the ground pork.
Just Sauté the vegetables in olive oil and you are good to go.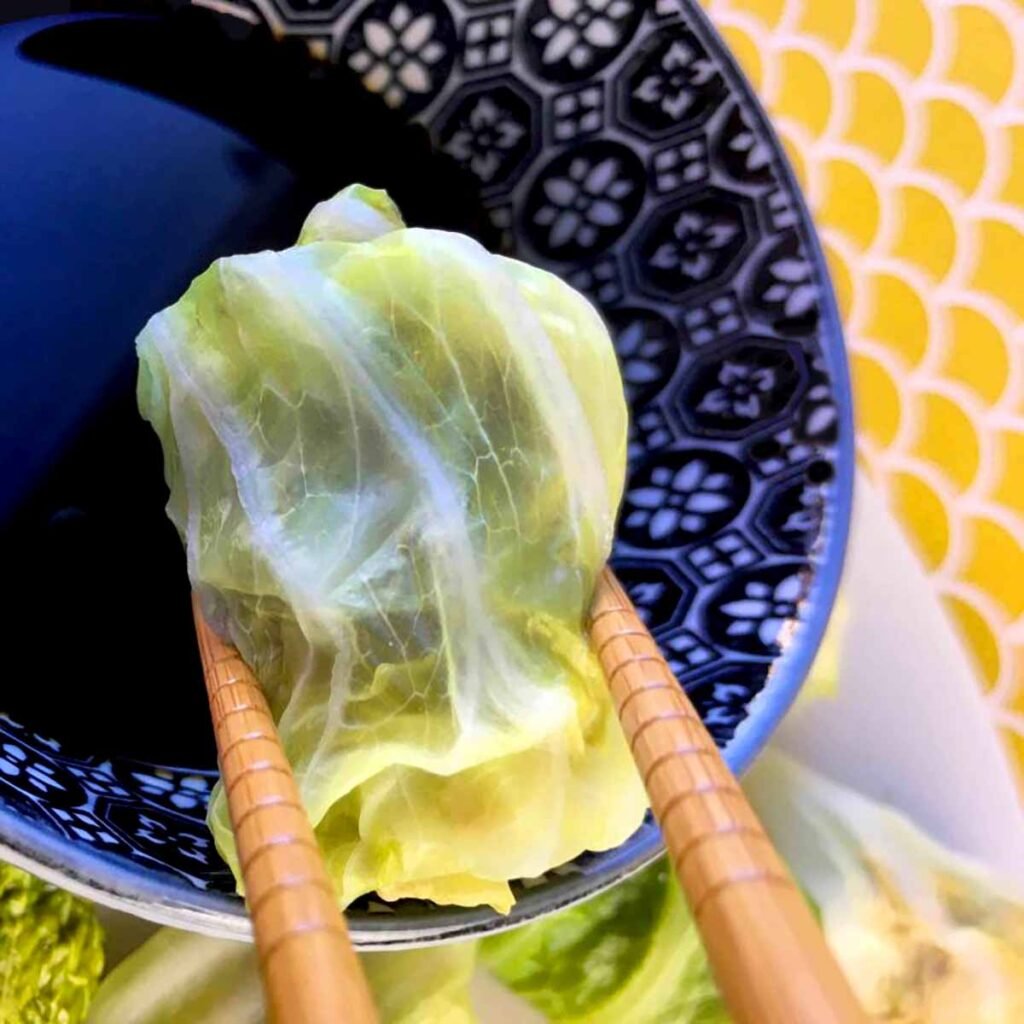 What kind of cabbage can you use?
Green Cabbage: This is the basic cabbage that you think of when someone says "cabbage". And unless you are shopping at a large grocery store, this is going to be the only cabbage available. But that is ok, because the pork dumplings work great with this kind of cabbage.
Red Cabbage: Don't let green cabbage hear this, but red cabbage has the same texture as green cabbage, but is just a little bit prettier. But you should know that the color sometimes runs, so you might be looking at some purple filling. Not the worst problem to have though.
Napa Cabbage: This is the most tender of the cabbages since the leaves are thinner and the ribs are less hearty. So you can easily make larger dumplings with Napa cabbage, which is nice. Just cut down the stem so it is even thinner, and roll the whole leaf, instead of just half of the leaf.
Savoy Cabbage: Savoy cabbages are what all cabbages aspire to be. It's a beautiful cabbage with a wonderful waffle-like texture with a slight elasticity. That makes it ideal for making these Pork Filled Cabbage Dumplings.
But again, when it comes to choosing cabbages, be like Crosby, Stills, Nash & Young and "love the one you're with".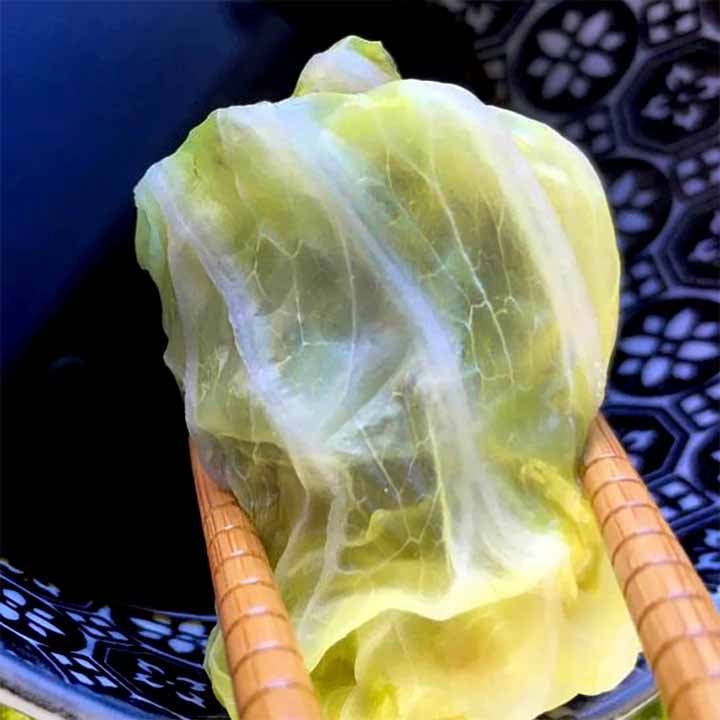 Soy Sauce or Coconut Aminos?
In case you are a coconut aminos newbie: it's a dark sauce that tastes very similar to soy sauce.  But instead of being made from wheat and soy, it's made from the sap of the coconut plant.  The sap is fermented until it has a nice rich salty flavor.  This faux soy sauce is lower in salt and can be eaten by people who eat gluten-free, wheat-free, and soy-free.  
Soy sauce has wheat in it?
Yes, wheat is actually the main ingredient in soy sauce, which came as a bit of a shock to me when I heard about it.  It's made from soybeans, wheat, salt, and a fermenting agent. The sugar is eaten up in the fermentation process, but you know, it's still made from wheat. So while it is technically low in carbohydrates, if you are on a low carb diet, you may want to go with the Coconut Aminos.   
But if you only have soy sauce, just use it.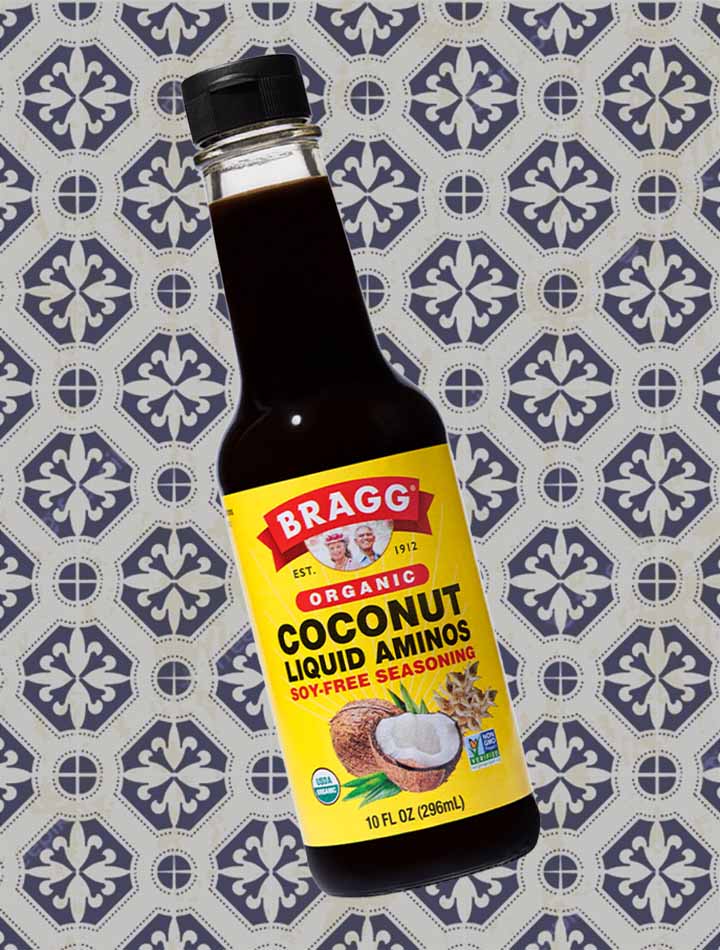 How to make Cabbage Dumplings:
First, you mix together all of the filling ingredients. Then boil the cabbage for 10 minutes, and carefully pull off the outer leaves.
Cut out the stem of each cabbage leaf and cut it in half like this: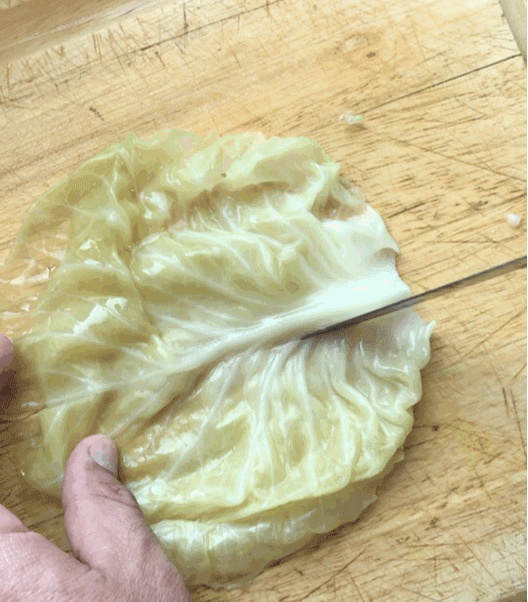 Then wrap the filling in the cabbage leaves like this: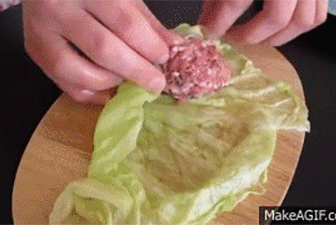 Add the dumplings to a steaming basket and steam for 10 minutes until cooked through.
Whisk together the dipping sauce and then serve.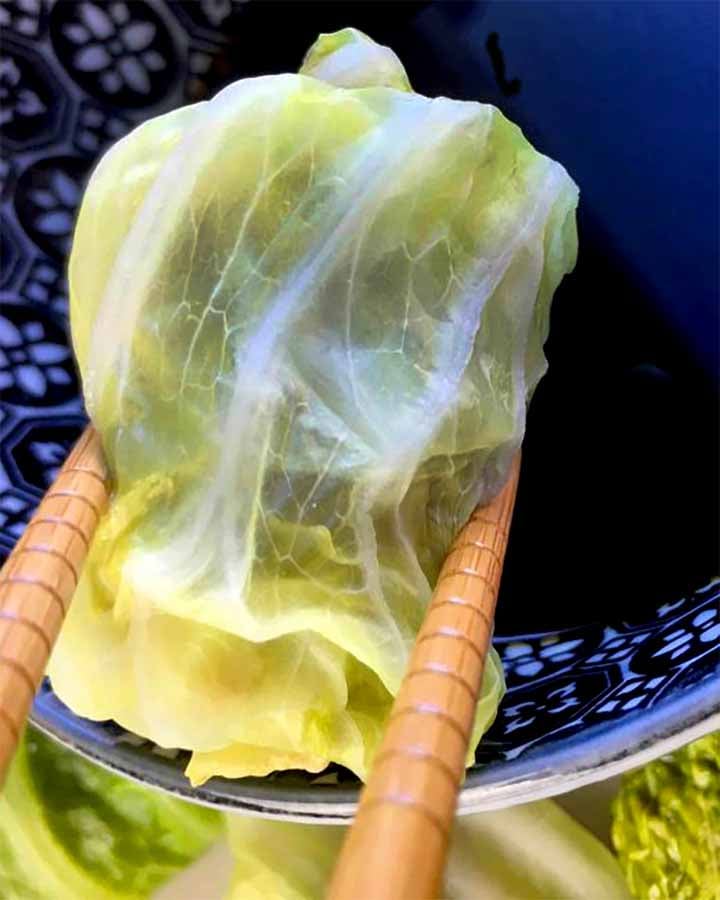 It only takes about 30 minutes tops.
They truly are all of the best frees.
So fly away my dumplings, fly away and be free.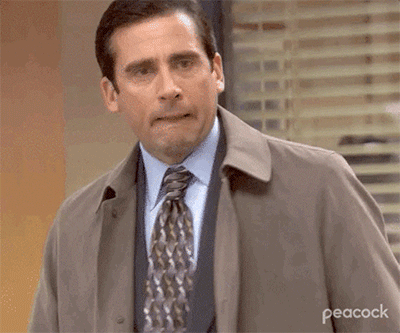 Print
📋 Recipe
Pork Filled Cabbage Dumplings Recipe
This Pork Filled Cabbage Dumpling recipe uses steamed cabbage leaves in place of dough, so it's a much healthier way to make this classic Chinese appetizer.
Author: Emily Krill
Prep Time:

15

Cook Time:

15

Total Time:

30 minutes

Yield:

4

servings

1

x
Category:

Appetizer

Cuisine:

Chinese

Diet:

Diabetic
Filling:
2

cloves garlic, minced

1

bulb ginger (

1 tablespoon

), minced

2

scallions including dark green ends, sliced

¾

pound ground pork

1

large egg

¼ teaspoon

Roasted Chicken Better Than Bouillon

¼ teaspoon

salt

¼ teaspoon

black pepper

1 tablespoon

coconut aminos or soy sauce

1 tablespoon

almond flour
Wrapper:
8

cabbage leaves (

½

cabbage)
Dipping Sauce:
1 tablespoon

coconut aminos or soy sauce

1 tablespoon

vinegar

½ teaspoon

chili oil
Instructions
Step 1.  In a large bowl, mix together the garlic, ginger, scallions, ground pork, egg, Better Than Bouillon, salt, pepper, almond flour, and coconut aminos. Knead the meat mixture with your hands until all of the ingredients are smoothly mixed together.
Step 2.  Bring a large pot of water to a boil.  Core the cabbage and boil for 10 minutes.
Step 3.  Allow the cabbage to cool enough to work with.  Gently peel off the cabbage leaves. Cut each leaf in half and cut out the remaining stems.
Step 4.  Drop a tablespoon of filling on a cabbage leaf.  Fold up the sides of the cabbage and roll it up.
Step 5.  Add the dumplings to a steaming basket and steam for 10 minutes until cooked through.
Step 6.  Whisk the dipping sauce ingredients together and serve.
Equipment
Nutrition
Calories:

276

Fat:

40

Carbohydrates:

6

Fiber:

2

Protein:

18
Keywords: Low Carb Cabbage Dumpling, Keto Cabbage Dumpling, Paleo Cabbage Dumpling